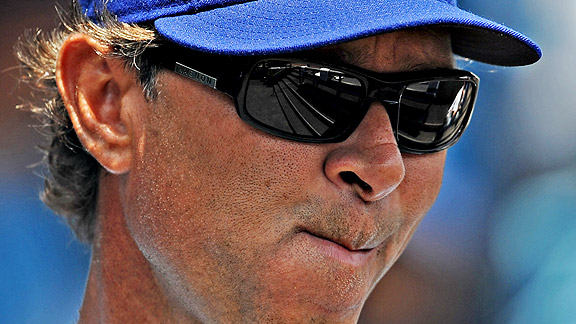 Jayne Kamin-Oncea/US PresswireDon Mattingly
I've noticed on different parts of the World Wide Internet that frustration about the Dodgers has started being directed toward manager Don Mattingly, something that I suppose is predictable and unexpected all at once.
It's predictable because frustration about losing always falls at some point in the manager's lap, as we can see by the end today of Edwin Rodriguez's 163-game tenure skippering the Florida Marlins. But at the same time, I'm taken aback by the idea of Mattingly as whipping boy, because I don't know how people can expect Mattingly to do much more about the situation than he already has. And I say this as someone who was repeatedly skeptical about his being hired in the first place.
If anything, as Tony Jackson of ESPNLosAngeles.com notes, Mattingly has every right to share in the current frustration, rather than be a target of it.
Starting pitching: Not much to say here. The relative strength of the team, it has faltered in recent days, but as we've seen by his recent comments about Chad Billingsley, Mattingly is if nothing else trying to do something about it.
Bullpen: Working without Jonathan Broxton, Hong-Chih Kuo, Vicente Padilla, Blake Hawksworth, Kenley Jansen and Ronald Belisario for long stretches this season – in case you hadn't noticed, that's pretty much an entire bullpen right there – Mattingly has actually managed better in this area than I would expect from a protege of Joe Torre. He hasn't overworked any pitchers, and he has not let a player's lack of experience get in the way of using him if he's the best option. Mattingly's a bit more infatuated with inherited runner-squanderer Mike MacDougal than I would like, but again, when a non-roster invitee is the only member of your expected Opening Day bullpen not to end up on the disabled or restricted list, you're not always going to have the ideal man out there.
There are always going to be moments where a manager makes a pitching change that you disagree with, but I don't know how you can say that Mattingly has been below-average here.
Starting lineup: Mattingly hasn't been afraid to start sitting the slumping James Loney or even acknowledge Andre Ethier's struggles against lefties. I think he'd be even less afraid if he had alternatives. Except on occasional days, he has recognized that Jamey Carroll, on pace for 603 plate appearances this year, is about the best option he has in the infield.  Kids such as Jerry Sands and Dee Gordon have gotten trials – in Sands' case, 144 plate appearances in under two months. The Dodgers don't have an answer for the left-field question, but is that Mattingly's fault? Juan Uribe has been terrible, but is that Mattingly's fault? Casey Blake is aging and fragile, Rafael Furcal has disappeared … you get the idea. As with the bullpen, there's stuff to quibble about, but I don't know of any manager who could make this offense work.
One of the next tests for Mattingly will be how much he plays A.J. Ellis while Rod Barajas is out. But regardless of how well he does, does anyone think Ellis will be a difference-maker?
Motivation: Jackson reports that Mattingly held a team meeting after Saturday's loss, the Dodgers' fifth straight, all at home. Eric Stephen of True Blue L.A. writes that with that defeat, the 2011 Dodgers have matched the 1992 team for the worst 72-game start in Los Angeles Dodger history. All I can say is that one of the main arguments in Mattingly's favor as manager was his ability to relate to players. What's happening on the field isn't pretty, but I'm not sure why we'd pick this moment, 2 1/2 months into his career, to decide that Mattingly is hopeless to motivate his players.
I'm sure there are some of you who will still be wondering where this piece is coming from, that see the Dodgers' problems originating, as I do, from the people wearing the suits and sport coats, not the uniforms and caps. But all I can say is that there are those who have already lost patience with Mattingly. Perhaps someday we'll find, as I considered a year ago, that he isn't the best man for the job, but there's no way you can base that decision on what's happened in 2011.
* * *
Crazy one in Albuquerque on Saturday: Christopher Jackson of Albuquerque Baseball Examiner writes that the Isotopes had 13 consecutive batters reach base in the 11-run second inning of their 13-10 victory over Iowa, a game in which all 23 runs had scored by the middle of the fourth inning.
John Lindsey survived being hit by pitches twice in the single inning, only to leave the game after reaggravating a calf injury in the third.
Trayvon Robinson went 3 for 3 with two walks and has now reached base in eight consecutive plate appearances. Robinson has a .500 on-base percentage and .705 slugging percentage in June. Though he's still averaging more than one strikeout per game, perhaps Robinson will be the next kid for Mattingly to play with.