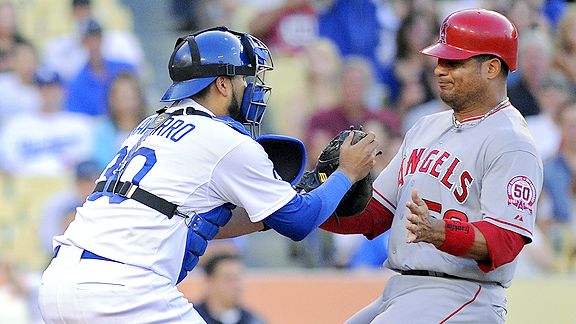 Mark J. Terrill/APThe defensive stylings of Dioner Navarro, here tagging out Bobby Abreu, were not enough to keep the Dodgers in the lead.
In the first inning tonight, the Angels' Maicer Izturis was caught stealing and Bobby Abreu was thrown out at home. In the second inning, Mark Trumbo was picked off first by Navarro and Jeff Mathis was thrown out at third. In the third inning, Erick Aybar was picked off first by Navarro. In the sixth inning, Vernon Wells was caught stealing.
Dioner Navarro became the first catcher to be officially recorded with two pickoff throws and two caught stealings in the same game, according to Vin Scully on the Prime Ticket broadcast. And still the Dodgers were down 5-3 heading into the eighth inning.
That's because Rubby De La Rosa, while throwing heat, allowed four walks, six hits, a double and two home runs. And that's because, while Matt Kemp was hitting a two-run homer and Andre Ethier was going 3 for 4, the Dodgers were 2 for their first 12 with runners in scoring position.
Meanwhile, Marcus Thames left tonight's game in the second inning with a strained left calf, raising the possibility that the Dodgers will soon see the return of Jerry Sands (.941 OPS in Albuquerque in June) or the debut of Trayvon Robinson (1.173 OPS in June) in left field if Thames goes on the disabled list.
There's also talk that Rafael Furcal could move to second base when he returns from the disabled list so that Dee Gordon can stay at short, but I'm not convinced that Gordon doesn't have a trip to Triple-A left in him.
Update: It got no better for the Dodgers, who gave up three runs (one unearned) in the final two innings of an 8-3 defeat. The Angels retired the final 11 batters for the Dodgers, who went hitless after the fifth inning.