Two years ago tonight, the Dodgers were 52-30, seven games better than any other team in the National League, three games better than any team in the majors.
Manny Ramirez, nowadays the subject of much ridicule (renewed by his recent appearance in the Dodgers' bankruptcy filing), had just come off the suspended list – and, contrary to what people might have expected or might remember, was about to begin a massive hot streak. Over the next two weeks, Ramirez would go 15 for 41 with seven extra-base hits and six walks, for a .458 on-base percentage and .707 slugging percentage.
On July 21, Ramirez was hit by a pitch on the left hand. That injury forced him to the bench the following night, the night the Dodgers were giving away Manny Ramirez bobbleheads.  He came on to pinch-hit in the bottom of the sixth inning with the bases loaded and … Bobbleslam.
The Dodgers were 61-34.
The contrast between then and now is so sharp. The idea of a losing Dodger team is no longer alien, the fact that the team's losing streak grew to five games with tonight's 5-3 loss to the Mets is no surprise. These Dodgers are 37-51, all but reversing the performance of their 2009 counterparts. Then – Manny's curtain call. Now – scrub's scrub Eugenio Velez tagged out, not even halfway to first base, on a grounder to end the game.
Every single game this week, a Dodger starting pitcher has pitched well heading into the sixth inning, before faltering without rescue. Every single game, you might have cynically felt the inevitability of defeat, yet if you're anything like me, not quite believed that the result could be so predetermined every single time. In fact, after Hiroki Kuroda let a 1-1 tie become a 4-1 deficit in the top of the sixth, the Dodgers came back to score two runs in the bottom of the inning. They had scored three runs, their highest total since Friday.  And there were still three innings to go.
But we are a long, long way from 2009.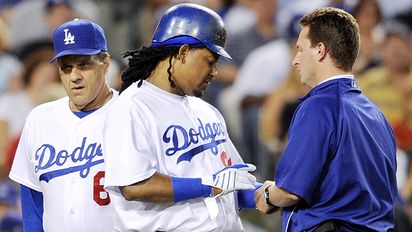 Chris Pizzello/APJoe Torre waits as Manny Ramirez, with an OPS of 1.129 at the time, has his hand examined after being hit by a pitch on July 21, 2009.
The 1988 season has been our touchstone, and will continue to be for some time, maybe for our entire lifetimes. But it's clear to me that 2009 is an underappreciated season. The offense was solid at every position, with the weakest link being Russell Martin, who still managed a .352 on-base percentage at catcher. Juan Pierre split the Dodger community in two, but even if you thought he was overrated as the team's spiritual MVP, he was useful and sometimes heroic. Andre Ethier and Matt Kemp were blossoming. James Loney was still promising. Casey Blake was one of the better third basemen in the NL. Rafael Furcal managed to stay healthy for 150 games. Cycle-hitter Orlando Hudson sparkled until he was overtaken by the red-hot Ronnie Belliard. Other than handwringing over Ramirez's suspension, there was little more to gripe over than Kemp batting eighth nearly a couple dozen times.
The starting rotation wasn't spectacular, but it was capable, with 21-year-old Clayton Kershaw posting a 2.79 ERA and Jon Garland and Vicente Padilla providing late season assistance after Chad Billingsley hit a rough spot. Jonathan Broxton, Ramon Troncoso and Ronald Belisario, none older than 26, led a dominant bullpen that went into overdrive when midseason pickup George Sherrill allowed only two earned runs in 27 2/3 innings.
It is Broxton, of course, who is considered the poison in this tale. He began the 2009 playoffs with five consecutive games of doing his job. In the sixth, Game 4 of the 2009 NLCS, he brought on infamy. And it's understandable that fans today might be even more bitter toward the reliever, who spoiled a great team's chance to even up the NLCS at 2-2 and catapult toward that long-awaited World Series title.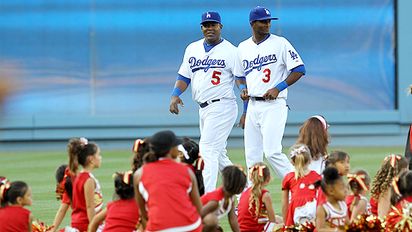 Stephen Dunn/Getty ImagesJuan Uribe and Eugenio Velez, two of your 2011 Dodgers, look for some cheer before the game.
But whether you credit Broxton, who in the regular season had 36 saves in 42 opportunities and 13.5 strikeouts per nine innings, for helping the Dodgers get in position to win a championship, or whether you hold him accountable for the failure to achieve the dream, it's remarkable to think of where the Dodgers and their fans were two years ago. Out of our minds with elation at the rebounding hero Ramirez. Somersaulting over the Game 2 NLDS bottom-of-the-ninth comeback win over St. Louis. On seats' edge as Broxton threw that 1-1 pitch to Jimmy Rollins, one out away from the latest, biggest victory.
I am someone who asks what might have been. There isn't a year that goes by that I don't question decisions I made a decade or two ago. I've made mistakes as bad as the fastball Broxton threw to Rollins and wondered "what if?" But I can't look back at 2009 now without instinctively feeling good about it, recalling so many wonderful times. And thinking that even with its short-circuited ending, how gladly would I take it back. And thinking how far away it seems.