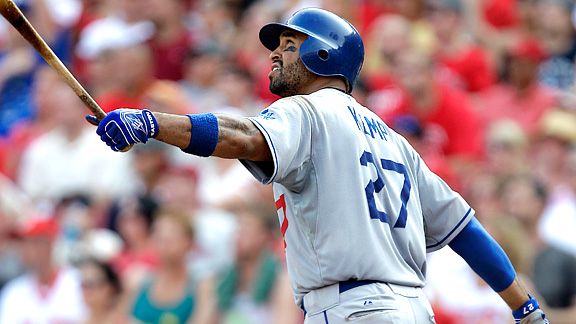 Al Behrman/APMatt Kemp hit two home runs to lead the Dodgers' June 4 comeback in Cincinnati.
It wasn't all bad, not nearly.
In fact, it took me aback to see, amid the wreckage of the 41-51 start to this season, how many good times the Dodgers have given us. A sample of the highlights is below … followed by a healthy sample of the lowlights, just to keep things in fair perspective.

Highlights
(March 31)  Clayton Kershaw shuts out the Giants on Opening Day for seven innings. Matt Kemp, setting the stage for his banner season, walks three times and scores the Dodgers' first run by drawing an errant pickoff throw at third base from Buster Posey and the second on an RBI double by James Loney (belying his cold start to the season). Hong-Chih Kuo and Jonathan Broxton (weathering a home run by Pat Burrell) close it out.

(April 3) I'm gonna call this "The Aubrey Huff Game" and see if that triggers the memories for you.

(April 8-9) Completing a game that had been suspended at 1:40 a.m. in the midst of a fourth rain delay that had left the score tied 2-2 in the ninth inning, the Dodgers won, 4-2, with Tony Gwynn Jr. getting the game-winning RBI on a single with two out in the top of the 11th, driving in Juan Uribe. In the regularly scheduled game, Hiroki Kuroda pitched 8 2/3 shutout innings as the Dodgers won, 4-0.

(April 11) "Monday night's pregame ceremony by the San Francisco Giants and Los Angeles Dodgers against fan violence, part of a concerted response to the horrible beating of Giants fan Bryan Stow on March 31, was unprecedented but wonderfully rendered." The Dodgers won that night's game, 6-1.

(April 22) The Dodgers forced 10 walks and 230 pitches from the Cubs, improving Los Angeles' record to 11-10.

(April 27) A three-run home run by Rod Barajas and a 10th-inning homer by Andre Ethier, who earlier in the day extended his hitting streak to 24 games, helped the Dodgers rally from a 4-0 deficit.

(May 6) With the losses mounting for the Dodgers, including this night's 6-3 loss to the Mets, the Dodgers and their fans take solace in Ethier extending his hitting streak to 30 games, second-longest in Dodger history.

(May 20) Russ Mitchell is batting .132 in his major-league career, but one of his nine hits was a ninth-inning, two-out, game-tying homer in Chicago that opened the door for a 6-4 extra-inning victory over the White Sox.

(May 24) With the third inning extended by a Houston error, Jerry Sands hit a no-doubter blast to center field for his first career grand slam. Rubby De La Rosa struck out two of three batters in a perfect eighth-inning major league debut, and fellow rookie Javy Guerra weathered a long foul ball by Bill Hall to close in the ninth for his first career save and a 5-4 Dodger victory.

(May 29) Kershaw pitches the first of two two-hit shutouts this season, walking one and striking out 10 in an 8-0 win over Florida.

(June 4) Kemp hit a solo homer and a grand slam in back-to-back innings, and the Dodgers came back from a 6-1 deficit and ultimately won in 11 innings.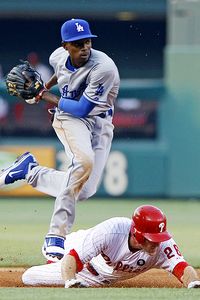 Matt Slocum/APDee Gordon brought a spark, even if he mostly struggled with the bat.
(June 7) Dee Gordon has hits in his first three major-league at-bats, and De La Rosa survives his first major-league start in a 6-2 Dodger victory.

(June 10) As losses go, it was pretty incredible. Kemp's season became even more legendary with a pinch-hit ninth-inning home run despite hamstring tightness, and Los Angeles scored five in the inning before losing, 6-5.

(June 20) Kershaw's second two-hit shutout topped his first: 11 strikeouts, including all three batters in the ninth inning, and only 29 batters faced in the game.

(June 21) Kemp reaches 20 homers and 20 steals in the Dodgers' 75th game of the season.

(June 27) For the first time in their history in Los Angeles, all nine Dodger starters had a hit, a run and an RBI in the team's biggest shutout victory since 1969, 15-0 over the Twins.

(July 1) A few days later, you could remove the parentheses: An official scorer's change made Gordon the first Dodger since 1928 to steal his way around the bases in one inning. It came on a night the redoubtable Kuroda pitched seven shutout innings in a 5-0 victory over the Angels.

No-hit for 8 2/3 innings, the Dodgers got back-to-back hits by Uribe and Dioner Navarro for their third straight shutout victory, 1-0. The Dodgers had three consecutive shutouts for the first time since 1991. The following day brings the team's first series sweep and four-game winning streak of the season.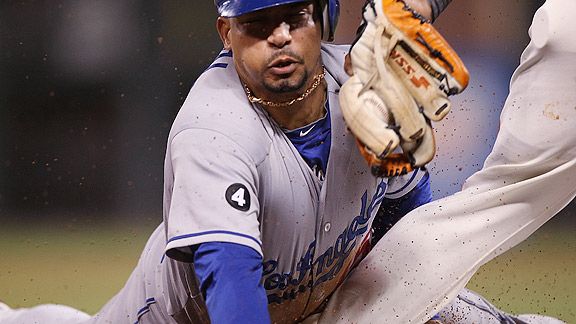 Jed Jacobsohn/Getty ImagesRafael Furcal hurt his thumb on this fifth-inning slide.
Lowlights
(March 31) The absolute nightmare: "Los Angeles police are looking for two men who beat and critically injured a San Francisco Giants fan in the Dodger Stadium parking lot after the opening day game."

(April 2) A 10-0 loss to the Giants ended, as Tony Jackson of ESPNLosAngeles.com noted, with catcher A.J. Ellis warming up in the bullpen for a potential relief outing.

(April 11) Let the injury train roll: Rafael Furcal broke his thumb tonight sliding hand-first into third base.

(April 15) This was actually the fourth game of a five-game losing streak in San Francisco and St. Louis. In the last three of those games, the Dodgers allowed 29 runs.

(April 20) It's not that this wasn't good news per se, but the fact that it had to happen was pretty sad. And then, of course, the story turned about to be much more nuanced than that headline.

(April 23) The Dodgers stormed back from a 5-1 deficit to an 8-5 lead today in Chicago, before previously unscored-upon reliever Matt Guerrier allowed five smackers in the bottom of the eighth for a 10-8 Dodger loss.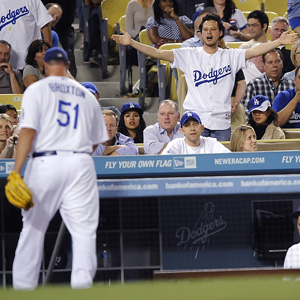 Gus Ruelas/APJonathan Broxton leaves the field for the last time for some time.
(May 3) Broxton looks terrible as a 1-1 ninth-inning tie turns into a 4-1 Dodger defeat. He has been on the sidelines since.

(May 7) New York broke a tie with two runs in the bottom of the eighth inning, and Ethier watched Los Angeles go quietly in the ninth after going 0 for 4 with a walk, and so the only streak of note extended this night was the Dodgers' losing streak to four with a 4-2 defeat.

(May 14) Chad Billingsley went eight innings, allowed two walks, one hit and no earned runs while striking out eight and still took a 1-0 loss to Arizona. The run came across in the second inning on a Melvin Mora sacrifice fly after a Stephen Drew double and a throwing error charged to Billingsley on a pickoff attempt – that Jamey Carroll gamely took responsibility for.

(May 28) Part of Dodger Stadium catches on fire, and there's no worries about finding empty seats to move the affected fans to. Oh, and Los Angeles loses to Florida, 6-1.

(June 9) Kemp homered, tripled in two runs and doubled as the Dodgers took a 7-3 into the seventh inning in Colorado. But the Dodgers gave back their rousing comeback victory in Cincinnati from five days before, blowing the four-run lead and losing to the Rockies, 9-7. The defeat sent the Dodgers into last place in the National League West.

(June 15) He has since snapped out of it, but Billingsley's three-game, 11.19 ERA slump, culminating in a 7-2 home loss to the Reds, was unfortunate to say the least.

(June 24) The Dodgers threw out six Angel baserunners – and still managed to lose by five.

(June 27) Oh yeah, there was this.

(June 28) Ted Lilly puts the Dodgers in a 4-1 hole at Minnesota, the Dodgers rally to tie, and then Lilly gives up two more runs – the 16th and 17th earned runs the lefty had allowed in his past 14 2/3 innings.

(July 4) De La Rosa takes a no-hitter into the sixth inning, but the Dodgers end up losing to the Mets on Independence Day, 5-2.