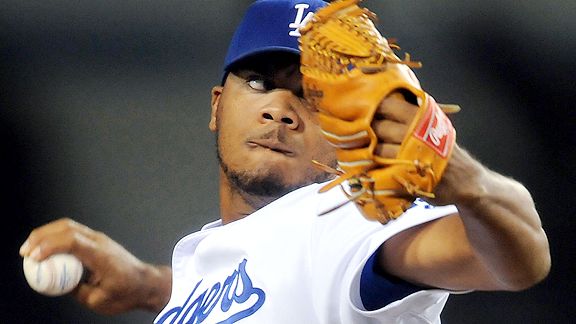 Jayne Kamin-Oncea/US PresswireUnsung shining light: Kenley Jansen
This is a good time to wonder if the Dodgers will reach the magic number of 50 players in a season. It's only happened twice in Los Angeles Dodger history: 53 players in 1998, and 50 players in 2006. Last year's team fell one player short, finishing at 49.
Juan Rivera became the Dodgers' 44th player this season. Trayvon Robinson is sure to get a promotion before season's end. Can they get five more? Others who might be candidates, as rewards for fine minor-league seasons, include pitchers Dana Eveland and Nathan Eovaldi and first baseman-outfielder Scott Van Slyke. (Each would require a 40-man roster move, but that's doable.)
But to get to 50, the Dodgers will probably have to be involved the trade market. For example, if Hiroki Kuroda were sent somewhere, they might get a prospect who would get a look in the majors, or create an opening for Eveland. If Jamey Carroll were traded, that could open the door for Justin Sellers before season's end.
In short, 50 is reachable, but the Dodgers are gonna have to want it. Do they want it? Do they feel lucky? Well, do they, punk?
* * *
Reminder: The Dodger Cogs and Dogs rankings are a mixture of subjectivity and objectivity and encompass season-to-date major-league performance, not what they've done lately. And it's still really hard to do these days.
| | | | | | | | | |
| --- | --- | --- | --- | --- | --- | --- | --- | --- |
| Today | 6/30 | 6/16 | 5/26 | 5/5 | 4/28 | 4/7 | Player | Comment |
| 1 | 1 | 1 | 1 | 1 | 1 | 2 | Matt Kemp | Had a 20-game, .694 OPS "slump" in April-May. Current slump is worse, but nothing to panic over. |
| 2 | 2 | 2 | 2 | 4 | 4 | 1 | Clayton Kershaw | This is probably closest Kershaw has been to top Cog in some time. |
| 3 | 3 | 3 | 3 | 3 | 3 | 4 | Hiroki Kuroda | For Dodgers with above-average ERA, Kuroda has lowest winning percentage since Tom Candiotti (7-14) in 1995. |
| 4 | 4 | 5 | 4 | 2 | 2 | 3 | Andre Ethier | Surprisingly, has become NL leader among RF UZR/150. |
| 5 | 5 | 4 | 5 | 9 | 6 | 5 | Jamey Carroll | MLB leader in pinch-hitting BA since 2002 (39-for-110, .355) |
| 6 | 6 | 7 | 13 | 20 | 21 | 20 | Aaron Miles | Hit .185 for '09 Cubs, hitting .303 in 157 games (411 PA) since. |
| 7 | 7 | 16 | 6 | 6 | 7 | 18 | Chad Billingsley | No shortage of good moments this year, but right now it's his worst season ever (88 ERA+, 4.07 ERA) |
| 8 | 9 | 8 | 22 | — | — | — | Rubby De La Rosa | His 3.87 pitches per batter: on par with other Dodger starters, not as bad as I would have thought. |
| 9 | 11 | 22 | 17 | 18 | 20 | 24 | Kenley Jansen | Opponents are 3 for 38 with seven walks, 17 strikeouts since he returned from DL. |
| 10 | 10 | 15 | 15 | 10 | 15 | 22 | Blake Hawksworth | With scrap-heaper Miles milesdly outperforming Ryan Theriot, Dodgers win the Hawksworth trade. |
| 11 | 12 | 10 | 19 | — | — | — | Javy Guerra | His easy save of Kershaw's Wednesday start was much appreciated. |
| 12 | 18 | 29 | 28 | 14 | 17 | 12 | Tony Gwynn Jr. | .393 OBP in 118 PA since June 1. |
| 13 | 23 | 19 | 8 | 11 | 11 | 13 | Mike MacDougal | Turnaround: Has stranded 10 of 12 runners since June 12 with 0.73 ERA, two walks in 12 IP. |
| 14 | 13 | 9 | — | — | — | — | Dee Gordon | Has .368 OBP, .463 slugging since returning to minors. |
| 15 | 8 | 14 | 23 | 32 | 23 | 17 | James Loney | Perhaps not since Willie Davis has there been a Dodger who fiddled more with his batting approach. |
| 16 | 14 | 11 | — | — | — | — | Josh Lindblom | Fine year continues with eight baserunners, 13 strikeouts in 12 innings in July. |
| 17 | 15 | 12 | 16 | 7 | 5 | 10 | Casey Blake | Had 571 PA last year, probably won't break 200 this year. |
| 18 | 24 | 18 | 11 | 5 | 8 | — | Jon Garland | Was the youngest player in the American League in 2000. |
| 19 | 16 | 30 | — | — | — | — | Trent Oeltjen | I almost forgot he was on team when he came up to pinch-hit Wednesday: 0 for 2 with two SH since July 5. |
| 20 | 17 | 6 | 10 | 17 | 18 | 14 | Ted Lilly | Hasn't gone seven innings or 100 pitches in past eight starts (5.82 ERA). |
| 22 | 22 | 17 | 7 | 16 | 14 | — | Jerry Sands | Struggling in July with .633 OPS for Albuquerque, including 3-for-33 slump. |
| 21 | 19 | 13 | 9 | 13 | 9 | 6 | Rod Barajas | Seven HR, .736 OPS by May 13/one HR, .451 OPS since. |
| 23 | 20 | 20 | 12 | 8 | 10 | 25 | Juan Uribe | 0 for 4 Wednesday, knocking slugging percentage below .300. |
| 24 | 21 | 23 | 21 | — | — | — | Scott Elbert | Still finding his way, but seven strikeouts, only one walk in seven innings since June 12. |
| 25 | 26 | 21 | 14 | 12 | 12 | 8 | Matt Guerrier | Since June 7: 6.39 ERA, six of 10 inherited runners scored. |
| 26 | 32 | 35 | 27 | 27 | 29 | — | Dioner Navarro | Thanks to his Wednesday homer, his 2011 OPS almost matches Ellis. |
| 27 | 25 | 28 | 20 | 21 | 22 | 15 | A.J. Ellis | No extra-base hits in 45 MLB at-bats this year. |
| 28 | 27 | 25 | 18 | 30 | — | — | Jay Gibbons | With Gwynn and Rivera on board, he'd now have a safe role as PH. |
| 29 | — | — | — | — | — | — | Juan Rivera | Marichal, Castro, Encarnacion, Pierre, Uribe, Rivera. |
| 30 | 35 | 32 | 31 | — | — | — | Juan Castro | Passed over for hitting coach position. |
| 31 | 29 | 26 | 24 | 15 | 19 | — | Vicente Padilla | Still a safe bet to finish third on team in saves. |
| 32 | 30 | 27 | 25 | 19 | 16 | 9 | Jonathan Broxton | Has not resumed throwing, according to Ken Gurnick of MLB.com. |
| 33 | 28 | 34 | 26 | 22 | 13 | 19 | Marcus Thames | Ended up doing better against righties than lefties as a Dodger. |
| 34 | 37 | 36 | 29 | 25 | 27 | 11 | Xavier Paul | Not doing anything special … except playing for a pennant contender. |
| 35 | 36 | 33 | 30 | 29 | — | — | Russ Mitchell | Followed 5-for-5 game Monday by going 2 for 2 with two walks Tuesday. |
| 36 | 31 | 24 | 33 | 35 | 33 | — | Ramon Troncoso | Remains inconsistent in Triple-A. |
| 37 | 38 | 37 | 32 | 26 | 26 | — | John Ely | Will compete with Dana Eveland for promotion if Dodgers trade Kuroda? |
| 38 | 40 | 39 | 34 | 28 | 30 | 21 | Hector Gimenez | Has 114 chances at 1B, 114 chances at C for Chattanooga. |
| 39 | 41 | 40 | 35 | 31 | 31 | — | Jamie Hoffmann | Tied for 26th in MLB history for career hits by players born on August 20. Blake DeWitt is eighth. |
| 40 | — | — | — | — | — | — | Eugenio Velez | Pointless. |
| 41 | 34 | 41 | 38 | 24 | 25 | 16 | Hong-Chih Kuo | As rough as his season has been, would a contender take a flyer on him? |
| 42 | 39 | 38 | 37 | 33 | 27 | 26 | Ivan De Jesus Jr. | Having his best month, reducing doubts that he'd remain on 40-man roster next season. |
| 43 | 42 | 42 | 39 | 34 | 32 | 23 | Lance Cormier | Had 3.02 ERA over final two months of 2010. |
| 44 | 33 | 31 | 36 | 23 | 24 | 7 | Rafael Furcal | I'm guessing he has one last finishing kick of greatness in a Dodger uniform before he goes. |