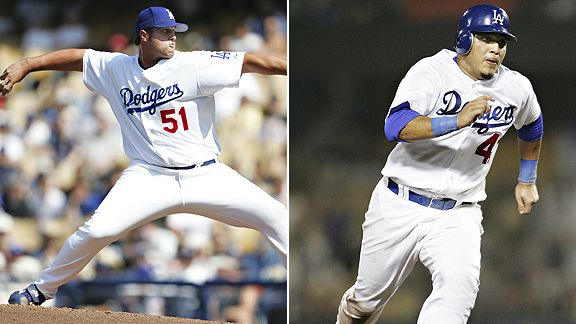 Jeff Lewis/US PresswireJonathan Broxton and Dioner Navarro in 2005.
Six years ago tonight, on a Friday, the Dodgers began a weekend series against the St. Louis Cardinals with a 46-56 record, then as they are now 10 games under .500. That day, the team made two transactions.
Purchased the contract of RHP Jonathan Broxton from Double-A Jacksonville and designated RHP Scott Erickson for assignment; Recalled C Dioner Navarro from Triple-A Las Vegas and optioned C Mike Rose to Triple-A Las Vegas.
Jonathan Broxton and Dioner Navarro. Today, those two names bring up mixed emotions, to say the least.
But six years ago, making their Dodger debuts, they heralded a new era of promise for a downtrodden team: Broxton, the first of a heralded group of Dodger minor leaguers to reach the bigs; Navarro, a 21-year-old catching prodigy acquired in trade.
From Dodger Thoughts, July 29, 2005:
… The 5-foot-10, 189-pound Navarro, still only 21, has battled some physical issues this season – according to Nick Christensen of the Las Vegas Sun, Navarro was 2 for 18 since being activated from the disabled list July 18 – but has played 75 games overall for AAA Las Vegas, with an on-base percentage of .366 and a slugging percentage of .390. Offensively, he is lacking power for now – but down the road, some may catch up with him. Though his professional high in home runs is only eight, he did hit 31 doubles in 2003 at age 19, split between A and AA ball. Navarro's biggest strength is his strike zone command – 38 walks against 24 strikeouts. Defensively, he is obviously more promising than Jason Phillips, but we'll see if the Dodger pitchers still need to hold runners on better.

Broxton, four months younger than Navarro but six inches taller and around 50-100 pounds heavier, has been a stud ever since he became a second-round pick for the Dodgers in 2002. Averaging more than a strikeout per inning with a career ERA of 3.14 entering this season – primarly as a starter – Broxton has recently been used out of the bullpen for AA Jacksonville in anticipation of the Dodgers needing his help. In 28 games (15 in relief), Broxton has a 3.36 ERA and in 91 innings, has allowed 77 hits (just four home runs) and 29 walks while striking out 99. As a reliever, he has struck out 28 in 19 innings and has been clocked at 100 miles per hour, according to Baseball America, which also published a quote from an American League scout praising both Broxton's fastball and "power curve."

Broxton becomes the third home-grown player on the Dodgers 25-man roster, joining Jason Repko and Steve Schmoll (assuming neither is sent down). …
Yes, you could say the youth movement was just getting underway.
In the game, Navarro started for the Dodgers, batting for the first time an inning after left fielder Ricky Ledee hit a three-run home run, and reached first on an infield single. He later struck out, grounded out and walked.
Broxton, also 21, replaced Brad Penny in the top of the sixth inning with the Dodgers leading, 5-4, and had mixed results. He gave up singles to David Eckstein and Abraham Nunez, then reared back and struck out Albert Pujols, who had homered the inning before. Broxton wild-pitched the runners to second and third base, prompting an intentional walk to Jim Edmonds. With the bases loaded and one out, John Rodriguez hit a sacrifice fly to tie the game, before Broxton struck out Mark Grudzielanek to end the inning.
Because the tying run scored, Broxton was charged with a blown save in a game that gave him no chance of actually recording a save. It was these kinds of no-upside blown saves that would skew his save percentage for years and help others make the case that he was unfit to close. Despite this, Broxton did become one of the top relief pitchers in the National League – just as one of many pieces of evidence, only six relievers in the majors had a lower OPS allowed than Broxton from 2006-09, and two of those are going to the Hall of Fame – but we're well past that debate now, with him unlikely to pitch much more than a few more innings as a Dodger, and others like Javy Guerra and Kenley Jansen stepping forward.
Navarro would be supplanted much sooner, replaced in May 2006 by Russell Martin after a combination of sluggish defense and injury. Navarro came back to Los Angeles this season after a long absence, fraught with professional and personal struggles, but it's now a celebration when his batting average breaks .200.
Somehow, both players are surprisingly close over the hill at age 27, even perilously close to the end of their careers if they don't reverse fortune. It fits right in with a Dodger team that has tumbled off a cliff in 2011. We've come full circle and gotten dizzy in the process.
The next generation of Dodgers beckons – the generation that will try to revive this team. But it's impossible to fathom how it will play out. Broxton, Navarro, Martin, James Loney, Andre Ethier, Clayton Kershaw, Matt Kemp, Andy LaRoche, on and on and on – so many ups and downs.  I can't tell if I feel that six years is long or short.
And then there's this: That same morning, in the July 29, 2005 issue of Variety, Dave McNary published the following story about the Dodgers, in their second year of ownership under Frank and Jamie McCourt:
… Frank McCourt, the Boston-born Dodgers owner … strolls around the stadium as though he was the mayor of a small New England town. He's not the landlord, he's a host, eager to welcome people to his party.

Under the O'Malleys, many Angelenos felt the Dodgers represented "downtown." McCourt has broader ambitions. … He wants Westsiders as much as Echo Park locals, and he believes the best way to get both of them is to make sure Hollywood feels welcome.

A year after buying the team in early 2004, McCourt added 300 seats to the Dugout Club and expanded the restaurant. McCourt and his wife, Jaime, attend most home games, where they escort club guests to a martini bar, as well as stands that offer prime rib, fajitas, salads and, of course hot dogs, all free of charge to box holders and other guests.

A seat in the club runs an all-inclusive $400 (booze is extra), but one of McCourt's biggest reasons for undertaking $20 million in upgrades was to attract people who may never pay at all.

McCourt wants to see the same sort of wall-to-wall celeb lineup who attends Lakers games. He's well on the way. On a recent evening, when the Dodgers suffered a blowout loss to the San Francisco Giants, club attendees included celebs Jerry Seinfeld, Jon Lovitz, Robert Wuhl and Alyssa Milano; sports agents Scott Boras and Dennis Gilbert; former players Dave Winfield and Bill Buckner; and Dodgers icon Tommy Lasorda.

Other regulars include Vince Vaughn, Owen Wilson, Tom Hanks, Pat Sajak, Penny Marshall, Mary Hart, Wayne Gretzky and Peter Chernin.

The McCourts' four sons also are conspicuous, with most of the credit for bringing Hollywood into the Dodgers' fold going to Drew McCourt, the low-key marketing director who decided to work for his dad after getting an astrophysics degree from Columbia U. The 23-year-old has been charged with glad-handing Hollywood studios, agencies, top-tier producers and music industry execs, luring them into premium seats by promising that most elusive commodity, exclusivity.

Still, in wooing Hollywood, the McCourts have a tough job. As one of the few sports facilities built in the 1960s that has aged with some grace, even minor changes to Dodger Stadium provoke anxiety among devoted fans — many of whom would never consider paying $400 for a seat.

"We've got an asset that's very unique within the baseball world," says Drew McCourt, who grew up going to Red Sox games at Fenway Park. "But we don't take it for granted that Hollywood's going to show up. We have to make this area attractive enough so the team's performance doesn't really matter whether people show up."
Six years. Six positively head-spinning years.