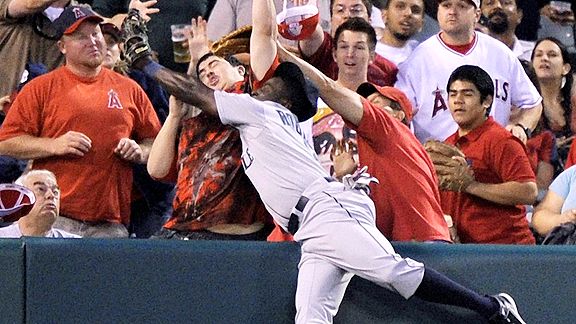 Mark J. Terrill/AP
And he shall be Trayvon. And he shall be a good man.
Short-lost Dodger prospect Trayvon Robinson not only singled, he made a dazzling catch over the left-field fence for Seattle in Anaheim in his major-league debut tonight.
At least the Dodgers still have Dee Gordon.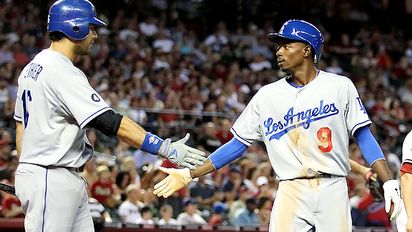 Christian Petersen/Getty ImagesAndre Ethier congratulates Dee Gordon after the rookie scored the Dodgers' first run.
Gordon laid a perfect bunt down the third-base line to start a six, count 'em, six-run outburst in the third inning, and then outfought some ants for a diving grab in the seventh to help keep the Dodgers from blowing what remained of their lead, and Los Angeles outlasted Arizona, 7-4.
Gordon's catch came with the bases loaded and the Dodgers' 6-0 lead down to 6-3.  He dove to his right to catch a Justin Upton liner inches off the ground, then doubled up Sean Burroughs at second base.
Rod Barajas, whose two-run double capped the Dodgers' scoring in the third inning, in the eighth became the third Dodger with double-digit home runs this year, giving the Dodgers an extra run to work with. After Mike MacDougal allowed a sacrifice fly in the bottom of the eighth, Javy Guerra came on for a career-best four-out save.
The Dodgers had 11 hits and five walks, led by Juan Rivera's perfect night (single and three walks), Casey Blake (3 for 5), Andre Ethier (single, double, walk) and Matt Kemp (single, walk). Chad Billingsley was charged with three runs in six innings. And, by the way, Tim Federowicz, who came in the Robinson deal, homered for Albuquerque tonight.
The Los Angeles youth movement continues Saturday with the promotion of Nate Eovaldi, whose contract was officially purchased by the Dodgers. John Ely was sent back to Albuquerque without pitching this week.