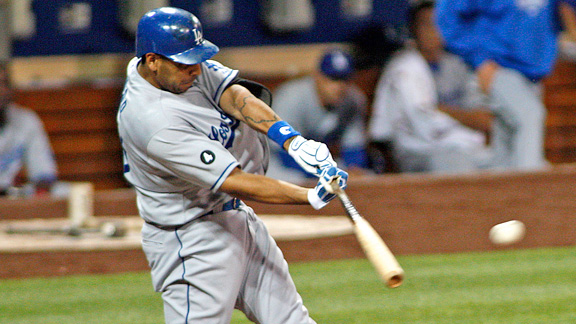 Jake Roth/US PresswireJuan Rivera
Here's a tip of the hat to Juan Rivera, who has performed above my expectations (but not above those of the guy who hounded me on Twitter last month saying he was a great pickup).
Rivera has a .359 on-base percentage and .416 slugging percentage in 64 plate appearances since coming to Los Angeles, which is superb by 2011 Dodger standards. He has effectively become an everyday player with starts in 17 of 20 games, counting tonight, when he makes his eighth start at first base.
The Dodgers begin play tonight 9 1/2 games behind San Francisco and Atlanta, their narrowest deficit since June 27. The same team that has enabled them to get over the double-digit hump, Philadelphia, will travel from San Francisco to Los Angeles to be the Dodgers' opponent Monday, Tuesday and Wednesday, while the Giants travel to Pittsburgh and the Diamondbacks to Houston. If that somehow doesn't provide a reality check, it will mean that someone has gone into the garage to try to jump-start their Miracle Machine. In the meantime, we'll see what youngun Nathan Eovaldi can do.