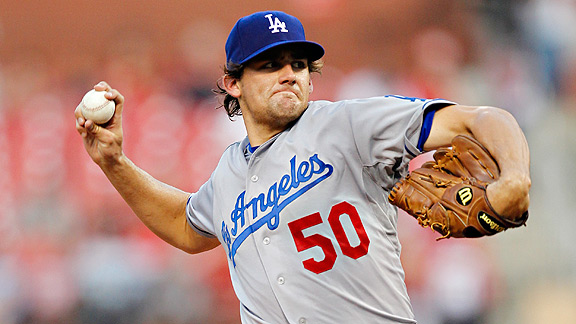 Jeff RobersonNathan Eovaldi
It's early, I know, to be asking the question of who the Dodgers' top rookie of 2011 is. But Nathan Eovaldi's fourth consecutive Start of Decency – if not heroic, at least decidedly upright – had me thinking again about how many different rookies had contributed to what limited success this Dodger team has had.
Just to take Monday's game as an example, Dodger rookies pitched eight of the nine innings, allowing a total of one run.
If you were picking now, who would be the 2011 Dodger Rookie of the Year?
The definition of a rookie is no more than 130 at bats, 50 innings pitched or 45 days on the active roster of a Major League club (not counting time after rosters expand September 1) before the current season. Here's how I might rank them:
Rubby De La Rosa, P: 60 2/3 innings, 3.71 ERA, 8.90 K/9, 1.40 WHIP
Javy Guerra, P: 31 2/3 innings, 2.27 ERA, 7.11 K/9, 1.20 WHIP
Kenley Jansen, P: 37 innings, 3.65 ERA, 14.84 K/9, 1.19 WHIP
Nathan Eovaldi, P: 22 innings, 2.05 ERA, 5.73 K/9, 1.18 WHIP
Scott Elbert, P: 25 innings, 2.88 ERA, 8.64 K/9, 1.00 WHIP
Josh Lindblom, P: 19 2/3 innings, 2.29 ERA, 5.95 K/9, 0.97 WHIP
Dee Gordon, SS: 114 plate appearances, .248 on-base percentage, .270 slugging percentage, 12-for-15 stealing
Jerry Sands, OF-1B: 144 plate appearances, .294 on-base percentage, .328 slugging percentage, 10 doubles
Trent Oeltjen, OF: 65 plate appearances, .387 on-base percentage, .438 slugging percentage, 11 walks
A.J. Ellis, C: 56 plate appearances, .364 on-base percentage, .222 slugging percentage, nine walks
Justin Sellers, SS: 39 plate appearances, .282 on-base percentage, .361 slugging percentage
Russ Mitchell, IF: 31 plate appearances, .258 on-base percentage, .269 slugging percentage, one memorable home run
Ivan DeJesus Jr., IF: 35 plate appearances, .235 on-base percentage, .188 slugging percentage
Some comments:
There's a really strong case for Guerra to win the award, in how he stepped up and provided an anchor for the bullpen after Jonathan Broxton and Vicente Padilla went down for basically the season. But De La Rosa started out as an effective reliever before becoming a mostly effective starter, and something tells me that he could have done just as well had he remained in Guerra's role. Perhaps by the end of the season, I'll change my mind, but I think right now De La Rosa is the cream.
That being said, there's an argument to be made that Jansen (26 baserunners, 48 strikeouts, 1.27 ERA in 28 1/3 innings since April 22) has been better than both of them.
Eovaldi's low ERA is mitigated by his low strikeout rate and limited innings. Based on reports that the Dodgers will limit his innings in September, he might slip further.
Elbert and Lindblom have quietly been as reliable as you could have hoped for, especially considering what their slides before this season. I think that puts them ahead of the batch of Dodger position players.
Gordon got the edge over Sands thanks to his defense and his steals, which if added to his total bases would put his slugging percentage above Sands' slugging.
Oeltjen has better offensive numbers than either Gordon or Sands, thanks to a rather stunning walk rate (not unlike Ellis), but I'm subjectively downgrading Oeltjen based on how little impact I really think he's had.
Sellers could easily move into the top 10, but with Gordon expected back by September, I don't know how much higher he'll go.
What do you all think?