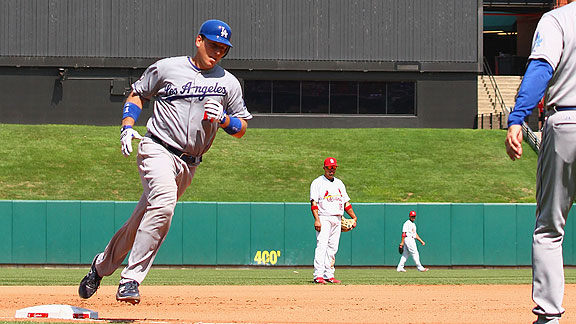 Dilip Vishwanat/Getty ImagesA.J. Ellis on his first official trot.
Since there's no way you can't be rooting for A.J. Ellis, there's no way you can't be a happy camper today.
Less than a day after bidding farewell to Albuquerque — quite possibly for the last time after spending most of the past three seasons there — the 30-year-old Ellis hit his first major-league home run, the icing on the Sara Lee of the Dodgers' 9-4 victory over St. Louis.
The Dodgers swept the three-game series from the Cardinals and, as Derrick Goold of the St. Louis Post-Dispatch noted, at this moment are the same distance out of first place as St. Louis in their respective divisions.
The day after washable-tattooing the Cardinals with 13 runs, Los Angeles stamped it up again with a six-run third inning in which the first eight batters reached base. Matt Kemp's two-run single (RBI No. 96 and 97) put the Dodgers ahead to stay, 2-1, and the hits just kept coming after that, including an RBI single from Ellis.
Ellis' home run — the third by a Dodger catcher in two days — came in the fifth inning, in his 200th career plate appearance. Juan Rivera hit a two-run homer in the seventh.
The 22 runs in two games were the most by the Dodgers since they rolled 23 on the Reds on April 20-21 last year. All eight Dodger starting position players had hits — James Loney's two singles and a double gave him 17 total bases in his past 17 at-bats — while pinch-hitter Eugenio Velez extended his major-league hitless streak to 27 at-bats this year and 36 overall.
Hiroki Kuroda allowed a first-inning run, shut out the Cardinals for his next five innings, then allowed a two-run homer to Gerald Laird (scoring a 4-for-4 Skip Schumaker) in the seventh. Kuroda finished his seven innings with eight hits allowed, one walk and four strikeouts.
In 12 starts from June 1 through August 8, Kuroda had 24 runs of support. He has matched that in his past three starts.