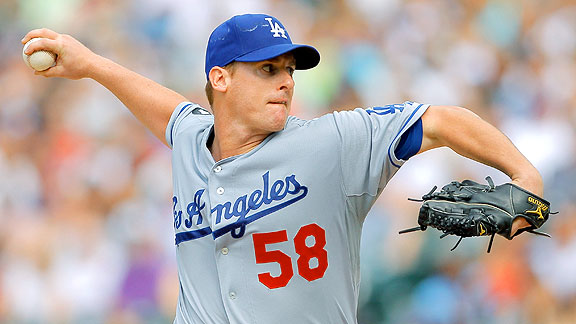 Justin Edmonds/Getty ImagesChad Billingsley has been unable to keep his ERA below 4.00 this season.
In an early scene of the underappreciated classic "Joe vs. the Volcano," Mr. Waturi (Dan Hedaya) is on the phone repeating to an unseen caller, "I know he can get the job, but can he do the job?"
The different answers to that question, when it's asked of Dodger starting pitcher Chad Billingsley, are helping rebuild his case as the Dodgers' MPP: Most Polarizing Player.
One thing to realize is that Billingsley, while not a staff leader, remains 25th in the National League in Wins Above Replacement as well as Fielding Independent ERA in 2011, according to Fangraphs. To be the 25th-best pitcher in a 16-team league, simple math tells us, is to fit right in as a solid No. 2 starter relative to the rest of the NL.
Let that sit with you for a moment. Whatever you might think of Billingsley, most NL pitchers are worse. And that's in what anyone would stipulate is a down year for Billingsley.
Just the same, it would be impossible not to acknowledge a widespread level of disappointment with the 27-year-old righty – not to mention a significant number of people who can't stand it when he takes the mound.
The roots of this are deep, and date back to nearly three years ago, when Billingsley briefly stole MPP honors from such title-holders as Juan Pierre, Manny Ramirez, Jonathan Broxton and Matt Kemp.
Billingsley entered the 2009 season with a career ERA of 3.39 and 8.2 strikeouts per nine innings, coming off an age-24 season in which his 3.14 ERA was seventh in the NL (and his FIP was fifth). We're talking about an elite pitcher at age 24.
Billingsley then threw 6 2/3 innings of seven-strikeout, one-run ball in the Dodgers' sweep of the Cubs in the NL Division Series, probably the most forgotten 6 2/3 innings of Billingsley's career.
That's because, at a moment where Billingsley was everything you could ask for – at a time when the Dodgers had suddenly become favorites to reach the World Series, and he was one of the main reasons –  he fell apart in the NLCS. In two starts, he lasted a combined five innings and allowed 10 earned runs in taking two of the Dodgers' four losses to the Phillies. And of course, it was the nature of the meltdown – when he was accused of not having the backbone, guts or other body parts to stand up for his teammates and brush back Phillies hitters in Game 2 – that torched his reputation.
Thanks to those two games, roughly half of the Dodger fanbase threw everything that Billingsley had accomplished in the first three seasons of his career  out the window to serve the story that he was a loser. Everything he has done in the three seasons since has been refracted through that prism.
For example, how many people remember that Billingsley came right back in 2009 and – despite breaking his leg in an offseason accident – pitched exceptionally enough to make the All-Star team, with a 3.14 ERA and 8.6 strikeouts per nine innings in the first half? And how many people remember the second half, when the first prolonged slump of his career eventually knocked him out of the postseason starting rotation? There's your divide, and it's stark.
The funny thing is that in August and September of that 2009 slump, Billingsley's ERA was 4.21 – hardly Haegeresque. But no doubt many people remember his entire second half of that season as a complete collapse, and probably think he was blasted by the sixth inning of every start he made in that time. In fact, there are still people who probably think Billingsley fades in the second half every season, ignoring 2008 (2.99 ERA) and 2010 (3.00 ERA).
It was a shame that Billingsley knocked himself out of the opportunity to redeem himself in the 2009 postseason. Still, he continued rebuilding his credentials in 2010, with a 3.57 ERA and 171 strikeouts in 191 2/3 innings, enough for the Dodgers to commit $35 million to him for the next three seasons, 2012-14.
But Billingsley has been inconsistent again in 2011. In May, he had a 2.63 ERA with 41 strikeouts in 41 innings, lowering his season ERA to 3.46 at the end of the month. Since then, it's been a mixed bag, with his ERA rising to 4.07, which would be the highest of his career if it stays there.
If Kemp were having the kind of season that Billingsley is having … well, Kemp did have that season. He had it in 2010, when everyone questioned his effort and not a few people wanted to give up on him.
Billingsley, on the other hand, does not seem to have his effort questioned, but even this year, his mental approach to the game has been challenged.
"I know he can get the job, but can he do the job."
Billingsley's problems might be less mysterious than all that, however. His strikeout rate has dipped for the fourth consecutive season, from 9.01 in 2008 to 8.21 in 2009, 8.03 last year and 7.46 this season – a figure that is neither bad nor great, but the trend is kind of discouraging. In the past year, his walk rate has gone up from 3.24 to 3.84, virtually as much as his strikeout rate has gone down.
What does it all mean?
In direct contrast to his reputation, Billingsley has repeatedly shown the ability to come back from adversity. From the 2008 postseason, from his broken foot, from his 2009 slump, Billingsley has always found a way. But this, quietly, might be his biggest challenge of all. It might require nothing more than a tweak, or it might require something much more substantial. Can he do what Kemp did?
In the history of the Dodgers, only eight pitchers have had more strikeouts before turning 28 than Billingsley, and three of them are in the Hall of Fame. Only 13 pitchers have had a better park- and era-adjusted ERA before turning 28 than Billingsley. He is, objectively, one of the best young pitchers in more than 100 years of Dodger baseball.
Another one of those is Billingsley's teammate Clayton Kershaw, who poses a standard that Billingsley probably won't be able to live up to. But Billingsley's inability to match Kershaw isn't what will make or break him. He doesn't have to be Kershaw-good to be good.
The question is not whether Billingsley has been a good pitcher for the Dodgers up to now. The question is whether he is slipping just as he's entering what should be his prime. There's every chance that he'll bounce back to be as good as he ever was. But in the process of figuring that out, the MPP trophy seems headed his way.