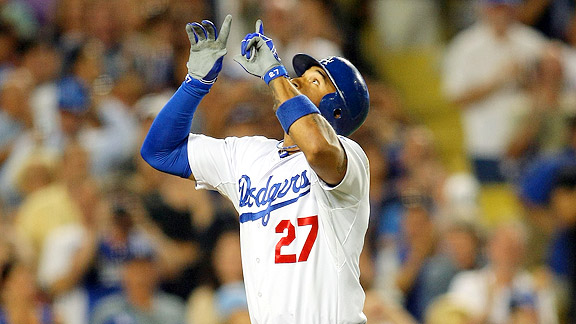 Mark J. Terrill/APMr. 30-33,
Matt Kemp
, is now on pace for 37 homers to go with 41 steals this season.
Ted Lilly giving up an early home run? Typical game.
The Dodger offense struggling to put a single run on the scoreboard? Typical game.
A six-run rally driven by two balks, a James Loney homer and a Dodger joining the 30-30 club? Not such a typical game.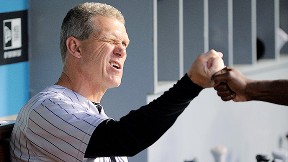 Mark J. Terrill/APJim Tracy wasn't seeing straight after two balks were called on his team in the seventh inning.
The Dodgers trailed 1-0 heading into the bottom of the seventh, but they rolled a six on the Rockies and moved directly to a 6-1 victory.
It was the Dodgers' fourth straight victory, their second in a row with a six-run inning, and their first with confirmation that Vin Scully would be back for more in 2012.
Working on a 1-0 shutout, Colorado starter Esmeril Rogers walked Andre Ethier and Aaron Miles, and Rod Barajas (after being forced to bunt for two pitches) singled to load the bases. However, the Dodgers seemed doomed – rather typically doomed, as it were – when Ethier tried to score on Jamey Carroll's fly ball to center field and was thrown out, as we'll get to continue hearing Vinny say, "from you to me."
But after pinch-hitter Tony Gwynn was intentionally walked – I'm not sure about the smarts behind that one, by the way – Miles goaded Rogers into committing a balk that moved everyone up and tied the game. And then, with runners on second and third, Justin Sellers' single drove in two more runs to give the Dodgers the lead.
A bitter Rogers was relieved by Matt Reynolds, who immediately picked off Sellers – only to have another balk called. That was all Jim Tracy could stand, and he couldn't stands no more, his determination to protest the call getting him thrown out of the game.
With the reprieve, the Dodgers doubled their fun. Loney hit his seventh home run of the season – five of them against Colorado – to make the score 5-1. And then Kemp hit his crowning-glory absolute rocket to center.
Loney, 2 for 4, is now 13 for his last 21 with a walk and 22 total bases: a .636 on-base percentage, 1.048 slugging percentage and 1.684 OPS.
Kenley Jansen made a successful return from the disabled list with a 14-pitch perfect eighth inning, and Scott Elbert took on the ninth, allowing two hits but no runs. Lilly got the win with his fourth outstanding start out of his past five, a stretch in which he has a 2.20 ERA.
* * *
Tweets from Beto Duran of ESPN Radio:

Vin Scully held impromptu press conference in elevator after game. By far coolest ride ever!
Vin "winning and losing doesn't bother me, it's just love of people. Just don't know what I'd do"
Vin on announcing return during game. "Didn't want to make big deal. Not trying to be a Brett Favre"