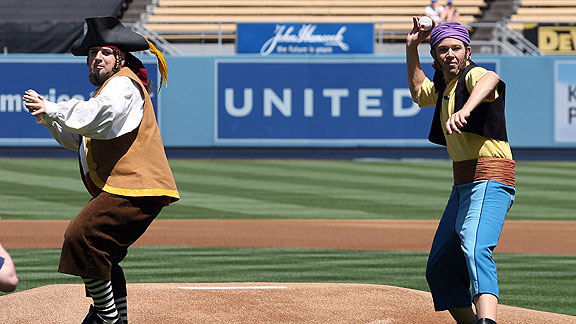 Jeff Golden/Getty ImagesAnother throwback uniform day …
Unless someone served him breakfast in bed or left flowers on his doorstep, it's safe to say that Chad Billingsley's day got off to a gruesome start.
It was as if he were Charlie Brown raking the same pile of leaves, and then Snoopy was jumping in and exploding them all over the yard, and Charlie Brown would get back to raking. Billingsley allowed three baserunners in the first inning; none scored. He allowed runners to reach second and third with none out in the second inning; none scored.
Then in the third, Mark Ellis doubled, Carlos Gonzalez (4 for 6) singled and Troy Tulowitzki homered, and it was Billingsley who was getting raked.
Billingsley was on the verge of leaving the game as early as the fourth inning, when he was already approaching 100 pitches and falling even further behind, 4-0, on an unearned run driven home by Gonzalez. Somehow, on the hottest day of the year at Dodger Stadium, Billingsley managed to understay his lack of welcome all the way to the sixth. After walking pitcher Kevin Millwood with one out, Billingsley benefited from an 8-4 sun-aided forceout at second base and then struck out Ellis on season-high pitch No. 123.
The ledger left by Billingsley when pinch-hitter Trent Oeltjen popped up for him showed six innings, four runs (three earned) 10 hits, two walks and five strikeouts.
And yet, Billingsley almost was the winning pitcher.
That's because for the fourth game in a row, the Dodgers unfurled a surprising big-and-tall inning. Aaron Miles and James Loney singled. Matt Kemp was safe at first when third baseman Kevin Kouzmanoff threw errantly home, Miles scoring the Dodgers' first run.
Kemp was credited with his 99th RBI of the season, somewhat inexplicably but perhaps on the theory that Kouzmanoff should have thrown to first base. Then, the error was switched to catcher Chris Ianetta, but still Kemp's 99th RBI remained in the boxscore.
Rivera drove in the second run, with Kemp nearly making a costly baserunning mistake, only to be safe at third when Kouzmanoff muffed Gonzalez's throw for another error. Casey Blake then ripped a double to the wall in left-center. Kemp and Rivera scored to tie the game, but Ethier, waved home by Wallach a day after running through a Wallach stop sign, ended up with the same result – out by a rod.
Still, the Dodgers took the lead when (after A.J. Ellis was hit by a pitch) and Jamey Carroll singled home Blake. The Dodgers led, 5-4.
But Hong-Chih Kuo, who had warmed up when the Dodgers were trailing by four, entered the game in the seventh and on his first two pitches allowed a bunt single to Gonzalez and Tulowtizki's second home run, which took high-speed rail over the short fence in left for a 6-5 Rockies lead.
The Dodgers threatened a second rally in the bottom of the eighth when they put two on with one out, but Carroll flied out and pinch-hitter Tony Gwynn Jr. popped out on a 3-2 pitch from Rafael Betancourt.
The out gave Betancourt 18 consecutive scoreless innings in which he had struck out 30 and walked one. But after Miles popped out to start the bottom of the ninth, Loney lowered the boom on Colorado once again, hitting a no-doubter into the right-field bleachers for his second homer in 24 hours against Colorado and sixth against the Rockies this season.
Soon after Kemp just missed winning the game with a high fly ball to left, we were headed into extra innings.
After Javy Guerra pitched a shutout 10th, the Dodgers loaded the bases against Jason Hammel when walks to Blake and Justin Sellers sandwiched a Rod Barajas single, but Miles struck out on three pitches.  After Mike MacDougal's shutout 11th …
KEMP!
Thirty-one home runs. One hundred runs batted in. Dodgers 7, Rockies 6.