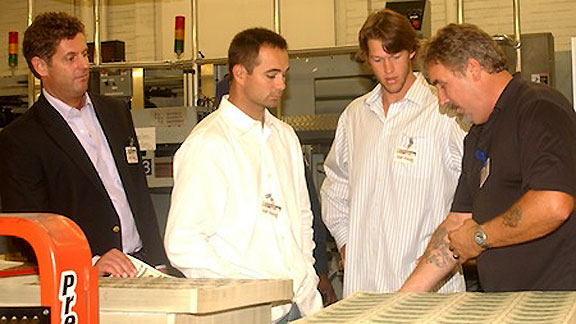 Bureau of Engraving and PrintingNot everyone
went to Best Buy
on Wednesday. Ted Lilly (middle left) and Clayton Kershaw (middle right) of the Dodgers saw a demonstration on the currency production process at the Bureau of Engraving and Printing in Washington, D.C.
More about the visit
from U.S. treasurer and diehard Oakland A's fan Rosie Rios.
Prime Ticket for Game 1 of today's scheduled doubleheader; KCAL Channel 9 for Game 2.
It's time to participate in Tangotiger's annual Fans Scouting Report. Head on over before today's game.
All-time single-season leaders in strikeouts per nine innings, minimum 40 innings pitched: Kenley Jansen is now No. 2 with 15.04.