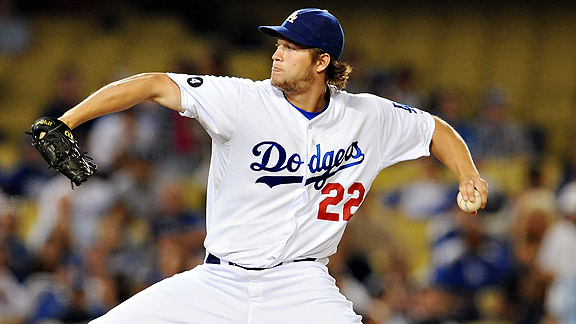 Jayne Kamin-Oncea/US Presswire
Clayton Kershaw
is set to finish his season with starts tonight and then Sunday in San Diego.
How heated is the National League Cy Young competition? The top four candidates — Roy Halladay, Ian Kennedy, Clayton Kershaw and Cliff Lee (in alphabetical order) — have a combined September ERA of 1.46.
Kennedy continued his late bid for recognition by pitching eight innings of one-hit ball with 12 strikeouts in a 1-0 victory for Arizona, which built its lead to 5 1/2 games in the NL West, while Halladay gave up a sliver of ground by allowing four runs in a 4-3 Phillies loss to St. Louis.
Kershaw and Lee — both red-hot of late, both scheduled to start tonight — have the opportunity to affirm themselves as the two top finalists for the award. In particular, if Kershaw bests Tim Lincecum for a fourth time in 2011 tonight, that's going to be memorable.
For the first time, I'm starting to think that Halladay and Lee being teammates could hurt the award chances of both. Up until very recently, I've felt that the award was Halladay's to lose, given that he pitches for the best team in the NL and that he's pitched so well — his numbers are virtually equal to Kershaw's (see chart below), with a slightly lower strikeout rate but better control, and higher wins above replacement.
However, Lee's amazing stretch run —a 0.56 ERA in 64 2/3 innings since August 1 — has helped him catch up to the leaders and throw more confusion into the race. If you're a voter who wants to honor the Phillies in some way with this award (given that the MVP race doesn't really offer that opportunity), whom do you pick?
Now, if you watched "Modern Family" win bunches of Emmys on Sunday despite multiple nominations in those categories, you learned that teammates don't always bring each other down. Still, as much as Lee presents another rival to Kershaw, he could also aid the Dodger by stealing votes from Halladay.
Voters who treasure wins may lean toward Kennedy, who certainly has been no slouch. But if Kershaw ends up with 20 wins himself, I think you can remove that category as a path to Kennedy leapfrogging the Dodger lefty.
In fact, much has been made lately of Kershaw possibly winning the pitcher's triple crown: wins, ERA and strikeouts. My guess is that if he does, he will collect the Cy Young (though for me, the win totals are essentially irrelevant).
But let's put it this way: If Kershaw doesn't finish first in the balloting, there will be no crime. Halladay and Lee have been every bit as fierce as Kershaw. It's been a superb year for all of them.
Top National League Cy Young Award candidates
(bold text signifies leader among contenders)
| | IP | W-L | ERA | Sept. ERA | ERA+ | WAR (B-R.com) | WAR (Fangraphs) | WHIP | K/9 | K/BB |
| --- | --- | --- | --- | --- | --- | --- | --- | --- | --- | --- |
| Roy Halladay | 227 2/3 | 18-6 | 2.41 | 2.03 | 160 | 7.1 | 8.0 | 1.045 | 8.58 | 6.38 |
| Cole Hamels | 206 | 14-9 | 2.80 | 4.18 | 138 | 5.1 | 5.0 | 0.981 | 8.13 | 4.54 |
| Ian Kennedy | 216 | 20-4 | 2.88 | 1.88 | 137 | 5.3 | 4.9 | 1.083 | 8.08 | 3.66 |
| Clayton Kershaw | 218 2/3 | 19-5 | 2.30 | 0.90 | 161 | 6.4 | 6.8 | 0.983 | 9.71 | 4.63 |
| Cliff Lee | 219 2/3 | 16-7 | 2.38 | 0.72 | 162 | 6.7 | 6.5 | 1.015 | 9.14 | 5.31 |
* * *