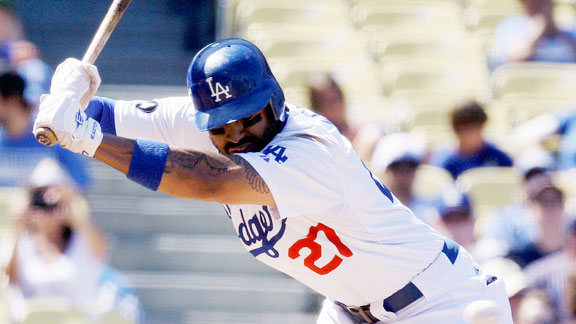 Reed Saxon/APWith nine games to play, the Bison is leading or in the top three in the NL in batting average, home runs, RBIs, total bases, steals, slugging percentage, OPS and Wins Above Replacement (WAR), according to FanGraphs.
The National League Most Valuable Player race, as far as I'm concerned, is down to two finalists: Ryan Braun and Matt Kemp.
Braun has seized the high ground among players from contending teams, pushing aside his Brewers teammate Prince Fielder and Arizona's Justin Upton. Kemp is the preeminent player from the also-rans.
Kemp and Braun are in something close to a dead heat statistically — Kemp leads in some categories, Braun in others — which, of course, might not be good enough for Kemp, who will be battling the belief by some voters that the MVP has to come from a contender.
On the other hand, despite the Brewers' run to a division title, I'm not sure Braun has had the nationwide publicity that Kemp has had — I do get the sense that some think Kemp has simply been the best player in the NL this year, and that might be good enough for them.
Kemp also retains an outside shot at the Triple Crown (he trails Braun by .016 in batting average, Albert Pujols by two in home runs and is tied with Ryan Howard for the NL lead in RBI), and if he can do something that hasn't been done in the NL since 1937, then forget about it. A 40-40 season (he needs six homers in his last nine games) wouldn't hurt, either.
But Kemp, who singled, doubled and hit his 34th home run in the Dodgers' 15-1 pasting of Pittsburgh on Sunday, can't relax until the finish line. He might be No. 1A at this point, but there's no award unless you're No. 1.

Top National League MVP candidates
(bold text signifies leader among contenders)
| | PA | OPS | OPS+ | Sept. OPS | HR | RBI | TAV (BP) | WAR (B-R) | WAR (Fangraphs) |
| --- | --- | --- | --- | --- | --- | --- | --- | --- | --- |
| Ryan Braun | 595 | .997 | 168 | .974 | 31 | 103 | .342 | 7.6 | 7.1 |
| Prince Fielder | 654 | .960 | 160 | 1.064 | 34 | 112 | .321 | 4.7 | 4.8 |
| Matt Kemp | 648 | .963 | 166 | .945 | 34 | 113 | .343 | 9.1 | 7.6 |
| Albert Pujols | 604 | .921 | 154 | 1.113 | 36 | 95 | .317 | 5.3 | 5.2 |
| Troy Tulowitzki | 599 | .924 | 134 | .965 | 30 | 105 | .305 | 5.9 | 6.6 |
| Justin Upton | 649 | .911 | 145 | .932 | 30 | 86 | .308 | 5.0 | 6.8 |
| Shane Victorino | 543 | .875 | 135 | .617 | 17 | 60 | .312 | 5.4 | 6.2 |
| Joey Votto | 675 | .971 | 162 | .855 | 28 | 98 | .332 | 6.7 | 7.1 |