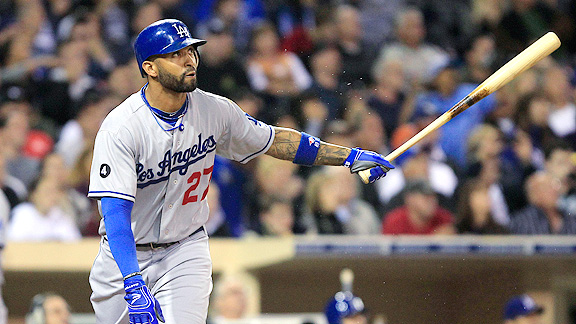 Lenny Ignelzi/APThe Bison roams free.
In St. Louis, Albert Pujols had a double, but no home runs.
In Milwaukee, Ryan Braun was 0 for 3, extending his recent slump to 1 for 16.
But then in the bottom of the eighth inning against the Marlins, with the score tied 1-1, Braun hit a three-run home run that, in no particular order, helped clinch the National League Central for the Brewers, raised his batting average back to .329 and seized the headlines in the NL Most Valuable Player race all at once.
Matt Kemp had struck out and flied out in his first two at-bats, and perhaps the momentum seemed to be shifting.
But then, on his 27th birthday, with his mom in the front row of Petco Park, Kemp unloaded on a 1-2 fastball from San Diego lefty Wade Le Blanc and tattooed it to right-center field, tying Pujols with his 37th home run of the season in the Dodgers' 2-0 victory over the Padres.
This is as thrilling a finish to an after-they've-been-eliminated season for the Dodgers as I believe I've witnessed.
After missing a double by a foot on a hard liner that went foul, Kemp struck out in his final at-bat. We're going down to the wire for sure.
* * *
After 6 1/3 scoreless innings by a resurgent Ted Lilly (six baserunners, seven strikeouts) and an adequate two outs from Mike MacDougal, Kenley Jansen came in for the eighth inning.
He struck out all three batters he faced, of course. That gives him 91 in 51 1/3 innings this season, or 15.96 per nine innings – just .03 off Carlos Marmol's single-season record.
Jansen has struck out 29 of his past 47 batters, including 29 of his past 37 outs.
* * *
Eugenio Velez: 0 for 3, 0 for 36 in 2011 (a single-season record for non-pitchers), 0 for 45. He has tied the major-league record for consecutive hitless at-bats by non-pitchers.