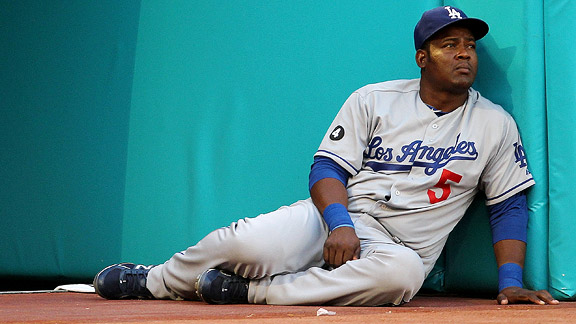 Mike Ehrmann/Getty Images
Juan Uribe
(11)
The setup: Glowing from his 26-homer season (including two in the playoffs) in 2010 like a rod from the Springfield Nuclear Power Plant, the 31-year-old Uribe fused with the Dodgers on a three-year, $21 million deal to play second base and a little third as well. After failing to post an OPS over .700 in his final three seasons in Chicago, Uribe had turned in seasons of .824 and .749 from 2009-10 with San Francisco, convincing Ned Colletti to let him light up the Dodgers.
The closeup: Uribe started his Dodger career 7 for 49 with no home runs – perhaps hampered by getting hit by a Tim Lincecum pitch Opening Day – but seemed to get on track in mid-April. On April 29, he hit his third homer in five games to raise his season OPS to .742. But that was his peak. May turned rough at the plate, and then all of a sudden, he was sidelined by a strained hip flexor. Uribe came back to active duty on June 6, but at no time did his season really show any signs of turning around. An 0-for-5 against the Angels on June 24 dropped his OPS below .600 for good. On July 30, he was placed on the disabled list again, seven days after he last played in a game, and he did not return, topping things off with surgery for a sports hernia September 7. He finished the year with a .264 on-base percentage and astonishingly low .293 slugging percentage, making 53 starts at third base (where his defense was a bright spot), 17 at second base and three at shortstop. He went homerless in his final 85 at-bats, and really did nothing more memorable than end up the subject of the above photo and accompanying website.
Coming attractions: Whenever I think of new Dodgers who disappoint with only four home runs, I think of Dusty Baker, who hit four in his first season in Los Angeles, then came back the next year with 30. While I'm not exactly holding my breath for Uribe to do the same, nor am I expecting him to again turn in a slugging percentage that was his lowest in nine years by more than 100 points. In short, it's hard to imagine Uribe's production going anywhere but up (like his salary) in the second year of his contract. Here's hoping for adequacy!