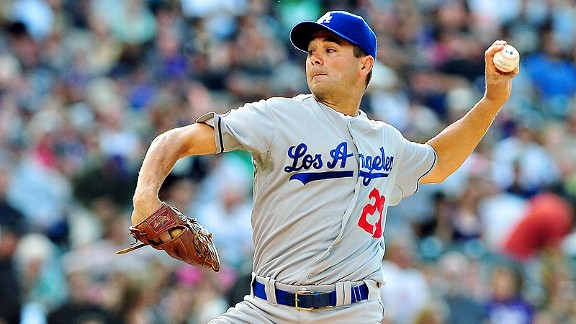 Andrew B. Fielding/US Presswire
Ted Lilly
(12)
The setup: After coming to the Dodgers, the team that drafted him in 1996, at the 2010 trade deadline and posting a 3.52 ERA with 77 strikeouts in 76 2/3 innings, Lilly was a free agent but one with an interest in staying in Los Angeles. In mid-October, not waiting to sound out offers from other teams, Lilly signed with the Dodgers for three years and $33 million. Though his ERA was above average during his half-season in Los Angeles, there was concern about his age (35 in January) and his home-run rate (one every six innings, roughly).
The closeup: Lilly didn't eat innings, averaging 5.8 per start, nor was he reliable even at that length for most of the year. He was one of several Dodger veterans who disappointed in the first four months of the season, seemingly taking two steps back after every step forward. Beginning the year by allowing four runs in 4 2/3 innings of a 10-0 loss to the Giants, Lilly had three quality starts in his first nine. After managing to lower his ERA to 3.98 on June 11 with a nice run of five starts, he was hit hard over his next three, allowing 17 earned runs in 14 2/3 innings. (Was it the left-elbow tenderness?) Only once in 11 starts from June 6 from August 3, did he last more than six innings, and not once did he complete the seventh. When August began, his ERA was 5.02.
And then, there were the homers and steals. While Matt Kemp pursued a 30-30 or even a 40-40 season, Lilly was in effect doing the same thing from the dark side. For the year, opponents stole 35 bases in 37 attempts against the lefty, all but powerless to slow them. Meanwhile, after allowing only two home runs in April, Lilly gave up nine in May, five in June, seven in July and five in August – a total of 28 entering the season's final month.
But following a solo homer to Colorado's Carlos Gonzalez on August 26, Lilly kept the ball in the park for his final 42 2/3 innings of the season, delivering a 1.69 ERA over that period with 39 strikeouts. (Was it the acupuncture?) When he finished his seventh shutout inning at Arizona in his final appearance of the season, Lilly lowered his ERA to 3.97, its best level since he took the mound for the first time in April. Still, his park-adjusted ERA+ of 94 was Lilly's worst since 2005. Lilly now has a 3.84 ERA in 269 1/3 innings over 45 starts with the Dodgers.
Coming attractions: In he second year of his contract, a 36-year-old Lilly will try to slow his decline in a Dodger rotation that, behind Clayton Kershaw, is also looking for a bounceback year from Chad Billingsley, a return or replacement for Hiroki Kuroda and adequacy from Nathan Eovaldi or his like.