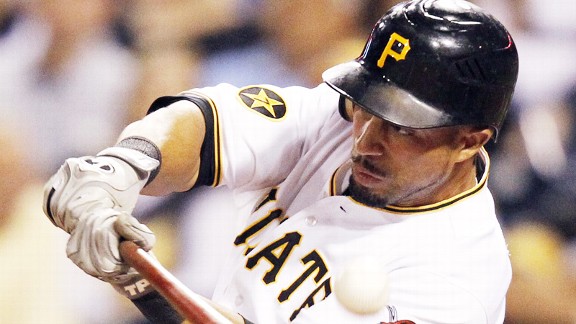 Justin K. Aller/Getty Images
Xavier Paul
(13)
The setup: In 2010, Paul missed an opportunity to help fill the Manny Ramirez void, managing only a .591 OPS in 133 major-league plate appearances (in contrast to his .963 OPS in Albuquerque). Out of options in 2011, Paul entered Spring Training with a chance to take playing time in left field away from Jay Gibbons, Tony Gwynn Jr. and Marcus Thames, but not a few of us thought he would end up being traded to Pittsburgh.
The closeup: We were way off. Paul wasn't traded to Pittsburgh. He was designated for assignment and claimed on waivers by Pittsburgh. Despite going 3 for 7 during the season's first week, Paul earned only four more plate appearances over the next week, each off the bench, and struck out all four times. On April 18, the Dodgers DFAed Paul to make room for the first coming of Jerry Sands.
With the Pirates, Paul went 2 for 4 in each of his first three starts and 6 for 7 in two games against the Mets to start the month of June, but in between those highlights, he was 3 for 27 with two walks and no extra-base hits. He ended up with a .293 on-base percentage and .349 slugging percentage for the Pirates in 251 plate appearances, to go with 16 stolen bases — not Hall of Fame stuff, but not too far off the offense Gwynn (.308/.353/22 in 340 plate appearances) provided the Dodgers, and at least more than Gibbons or Thames delivered.
Coming attractions: Paul, who made 41 starts in 2011 (with a .686 OPS, in contrast to a .253 OPS in 45 plate appearances as a pinch-hitter), will compete for a more regular role with the Pirates next season, or at least to remain on a major-league roster for an entire season for the first time.