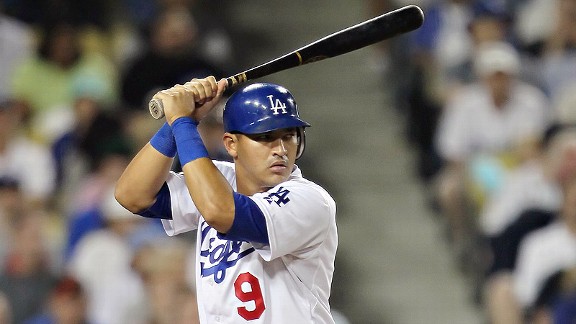 Jeff Gross/Getty Images
Hector Gimenez
(16)
The setup: Though his major-league career at the time comprised of going 0 for 2 with the 2006 Houston Astros, Gimenez's .916 OPS in 2010 with Double-A Altoona and ability to play catcher attracted the Dodgers, who made Gimenez a footnote acquisition in November. He entered Spring Training with an outside chance to move ahead of Dioner Navarro and A.J. Ellis for the backup catcher role if those two faltered.
The closeup: Remember that feel-good spring? A .565 slugging percentage in 46 at-bats did succeed in propelling Gimenez onto the Opening Day roster, though not so much as a catcher (the Dodgers also kept Ellis) as a semi-utility player with Navarro, Casey Blake and Jay Gibbons on the disabled list. Gimenez reached base on an error as a pinch-hitter in his Dodger debut in Game 2 — a key play in a three-run Dodger rally that gave them a 4-3 victory over the Giants — then got his first major league hit in his only start of the year the following day. After two subsequent pinch-hitting at-bats that lowered him to 1 for 7 on the year, Gimenez went to the disabled list with a knee injury that certain cynics thought was fortuitously timed for the Dodgers to make a needed callup of John Ely. But Gimenez did in fact have surgery at the end of April.
Once healthy, Gimenez was outrighted in June to Double-A Chattanooga, where he had an .866 OPS in 266 plate appearances. Despite having some issues with offense off the bench, the Dodgers showed no inclination to bring him back to Los Angeles.
Coming attractions: Gimenez is a free agent and will look toward getting another shot at the majors elsewhere.