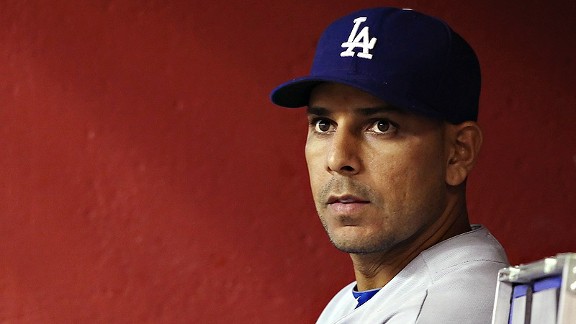 Christian Petersen/Getty Images
Juan Rivera
(15)
The setup: Rivera was sent to Toronto by the Angels on January 21 in their infamous Vernon Wells deal, after OPSing .721 in 2010 with 15 homers in 124 games. As a Blue Jay, Rivera turned in a career-low .666 OPS (79 OPS+) in 70 games. On July 4, a day after he turned 33, Toronto designated Rivera for assignment. Eight days later, the Dodgers acquired Rivera in exchange for future considerations, cutting bait on Marcus Thames in the process. In one of my less prescient analyses of the year, I was almost completely dismissive of the pickup.
The closeup: In 2006, Marlon Anderson. In 2009, Ronnie Belliard. In 2010, Rod Barajas. In 2011, Rivera. Once again, Ned Colletti found one of his greatest successes of the year in giving up next to nothing to acquire a potent bat for the final two-plus months of the season – although Rivera wasn't so much potent as he was a solid improvement over what preceded him. In 62 games with the Dodgers (45 starts in the outfield, 13 at first base), he had a .333 on-base percentage and .406 slugging percentage with five home runs in 246 plate appearances. Sometimes, as Mike Scioscia's Tragic Illness points out, it helps just to stop playing terrible players.
What happened with Rivera is that, after OPSing .863 with four homers in his first 34 games as a Dodger, through August 24, he fell to .604 with one homer in his final 28 games and .527 in his final 15, including a 3-for-27 finish. You could say he was gassed, or regressed to the mean, but it took some of the rust coat off his Los Angeles detail.
Coming attractions: Rivera is a free agent, having played out the three-year, $12.75 million contract that he signed with the Angels before the 2009 season. He earned $5.25 million this year, but any chance that he could match that figure for 2012 evaporated with his late-season slump (assuming the powers that be noticed it). Furthermore, his chances of returning to the Dodgers diminished with James Loney's late-season hot streak, which could push the first baseman back into the Dodgers' future, Jerry Sands to left field and Rivera out of town.
However, if Rivera gives ground on salary, or if it's decided that Loney is too expensive to tender a contract, Colletti would probably jump at the chance of having him back, just as he did (in mostly ill-fated fashion) with Anderson, Belliard and Barajas. The presence of Rivera would take some of the pressure off Sands to perform immediately, and one could certainly argue that Loney (who will get at least $6 million if the Dodgers don't farewell him) isn't worth millions more than Rivera for 2012. Colletti is high on Sands, but it's hard to believe he'd be more comfortable with Sands batting behind Matt Kemp in April than Rivera. Moreover, the Dodger bench definitely has room for him at the right price.
Assuming that a signing of a super-slugging free agent by the Dodgers is mythical, Rivera might well be a Dodger next year, but the more he's looking for in salary, the longer he might be kept on hold.