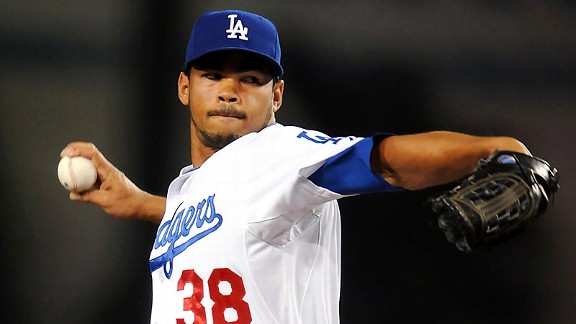 Jayne Kamin-Oncea/US Presswire
Ramon Troncoso
(18)
The setup: Superb for the Dodgers in 2009, Troncoso hadn't really been the same since, coincidentally or not, a stretch of 2010 in which he pitched in 16 of the Dodgers' first 24 games, never with more than one day of rest (not counting how many times he warmed up but didn't enter a game). Troncoso had a 6.08 ERA from May 1 through Independence Day that year,  at which point he found himself back in a place he probably thought he had left behind for good, Albuquerque. He shuttled back and forth for the remainder of the 2010 season. Though a better final two weeks in Los Angeles (9 1/3 innings, 12 baserunners, 1.93 ERA, six strikeouts) offered a bit of encouragement that the rocky road of relief might run the right way once more, Troncoso still wasn't a sure thing. Given that he still could be optioned to the minors in 2011, he had to prove himself again in Spring Training.
The closeup: After turning 28 in February, Troncoso turned back to Albuquerque in March, failing to make the Dodgers' Opening Day roster. The team's reliever roulette brought Troncoso back in mid-April (thanks to a Hong-Chih Kuo trip to the disabled list), but in two games, he allowed six runs on 12 hits in 2 2/3 innings. And so back to the Isotopes he went.
Given that memory, and the 6.75 ERA he ended the 2011 season with, you might have the impression that Troncoso never contributed, but that's not really the case. In two later stints with the Dodgers (May-June and September), Troncoso had an ERA of 2.75 with 14 strikeouts against 25 baserunners in 19 2/3 innings, stranding five of eight inherited runners.  That's not outstanding, but it was occasionally useful. On June 10 in Colorado, for example, Troncoso stranded two inherited runners while throwing 2 1/3 shutout innings in a game that the Dodgers nearly came back from a six-run deficit to win.
OK, now I'm going to tell you I cheated a bit in that last paragraph. On Closing Day, Troncoso gave up all five runs in the ninth inning of what nearly became the Dodgers' second mega-collapse in as many days, so that May-September performance wasn't quite so lofty. Still, to get a grasp of Troncoso's season, factor in that he allowed no earned runs in 13 of 18 appearances. He allowed two earned runs in a game once, three earned runs twice, four earned runs once and five earned runs once.
Coming attractions: Next spring, Troncoso will find himself in much the same position he was before — trying to prove he has the reliability and durability to hold down a major-league job. Despite the ascension of pitchers like Javy Guerra, Kenley Jansen, Scott Elbert and Josh Lindblom, there's still room for someone capable of providing occasional long relief like Troncoso — if he's able. Perhaps Cory Wade can be his inspiration.