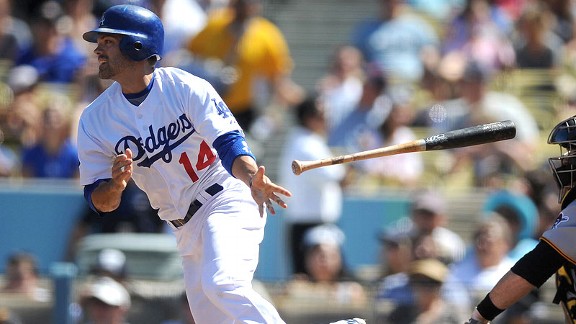 Kelvin Kuo/US Presswire
Jamey Carroll
(19)
The setup: Carroll was the sung hero of the 2010 Dodgers, exceeding expectations at the start of his two-year contract with a .379 on-base percentage in 133 games, 69 of them played at shortstop in support of an oft-injured Rafael Furcal. For 2011, he was once again slated for a bench role, but this time with everyone prepared for him to play often, given the frail state of the Dodger infield.
The closeup: Yep, you could say Carroll found regular time again – at age 37, he came to the plate 510 times, ranking fourth on the Dodgers this season. He started on Opening Day and in 111 games overall (57 at second base, 54 at shortstop). He played in 58 of the Dodgers' first 60 games and sat out only 16 of 161. The fact is, he could have even played more. Come July, when there was only one opening for a so-called reserve in the starting infield, Aaron Miles was taking away playing time even though Carroll had the Dodgers' third-highest on-base percentage in 2011. And then, of course, Dee Gordon entered the picture.
As it happens, Carroll did go through a summertime slump, with his on-base percentage falling to .329 and his OPS to .636 over July and August. He rebounded a bit in September and finished the season with a .359 on-base percentage (down .020 from 2010) and .347 slugging percentage. That includes three four-hit games between May 20 and June 11; he also walked in two of those games. Two statistical oddities from Carroll:
Overall, among infielders with at least 800 plate appearances, Carroll has the highest on-base percentage of any in Los Angeles Dodger history, according to Baseball-Reference.com.


Rk               Player  OBP   PA From   To   Age

1         Jamey Carroll .368  924 2010 2011 36-37

2             Jeff Kent .367 2146 2005 2008 37-40

3       Mike Sharperson .363 1271 1987 1993 25-31

4          Eddie Murray .359 1983 1989 1997 33-41

5               Ron Cey .359 6108 1971 1982 23-34

6           Jim Gilliam .358 4893 1958 1966 29-37

7    Billy Grabarkewitz .357  966 1969 1972 23-26

8            Eric Young .355 1366 1992 1999 25-32

9            Todd Zeile .352  842 1997 1998 31-32

10        Rafael Furcal .351 2802 2006 2011 28-33


Coming attractions: Having more than justified the two-year, $3.85 million (plus incentives) contract he signed in December 2009, Carroll is a free agent, and there will be a lot of sentiment toward resigning him. Keep in mind that Carroll shouldn't be expected to produce as much in the future as he has in the past, though we said the same thing two years ago and look what happened. At a minimum, it's reasonable to think that Carroll 2012 would be at least as effective as Miles 2011 (salaries aside). Some team will want Carroll, that's for sure.