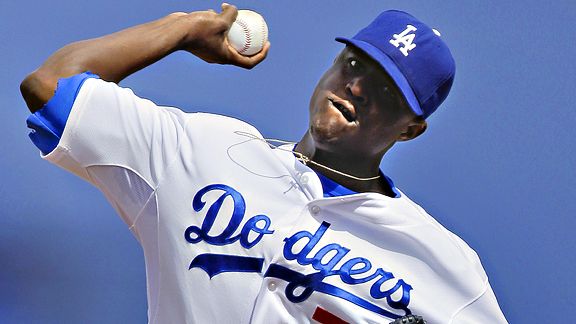 Julie Jacobson/AP
Rubby De La Rosa
(20)
The setup: De La Rosa was the Dodgers' Minor League Pitcher of the Year in 2010, but more than half of that season was spent with Single-A Great Lakes. At Double-A Chattanooga, he had a 1.41 ERA in eight starts covering 51 innings, but with a modest strikeout ratio of 6.9 per nine innings. He became the team's most exciting pitching prospect almost overnight, but there were questions about his lack of experience. At the end of Spring Training, De La Rosa made his Dodger Stadium debut with 5 2/3 innings of two-hit, no-walk shutout ball and six strikeouts (including Ichiro twice). Appetites whetted.
The closeup: De La Rosa looked strong back in the Chatt room, with a 2.92 ERA and 52 strikeouts in 40 innings (51 baserunners allowed). In May, the Dodgers showed their willingness to start promoting key prospects from within by calling up Jerry Sands. De La Rosa came next, with the Dodgers giving up on Lance Cormier. De La Rosa began his major-league career in relief by striking out two in a perfect inning that helped preserve a 5-4 Dodger victory in Houston (in which Sands hit a grand slam and Javy Guerra got his first save). After two more bullpen outings, Jon Garland went on the disabled list, and De La Rosa was pushed into the starting rotation, making his first start at 22 years and three months. In that game, De La Rosa walked five in the first two innings, yet managed to last five innings in all, allowing one run and earning the 6-2 victory.
De La Rosa battled his control throughout his run as a starting pitcher, walking 30 in 55 2/3 innings, but he also showed dazzling stuff at times (striking out 55). In a three-start stretch, he allowed one run in seven innings at Minnesota, took a no-hitter into the sixth inning against the Mets on Independence Day and pitched one-hit, eight-strikeout ball at San Diego on July 9. All in all, it was pretty joyous.
In a Dodger season filled with injuries, none was more depressing than what happened to De La Rosa – a partial ligament tear in his right elbow that sidelined him after a laborious four innings against Arizona and put him under the knife for Tommy John surgery in August. He finished his rookie year with a 3.71 ERA and 60 strikeouts in 60 2/3 innings. In his entire professional career, including the minors, De La Rosa has still thrown only 280 2/3 innings.
Coming attractions: For those who think the comparison is worthwhile, Washington's Stephen Strasburg, who also had Tommy John surgery to repair a UCL tear, went 12 1/2 months between major-league starts. That would seem to open the door for an August return for De La Rosa, though I just have trouble believing that De La Rosa would match Strasburg's timetable. So maybe September, at a point when the Dodgers would either be playing out the string or getting a timely Rubby injection for a postseason run. Or maybe not at all in 2012. In any case, by 2013, De La Rosa might be part of a Dodger rotation that also includes Zach Lee. We can hardly wait.