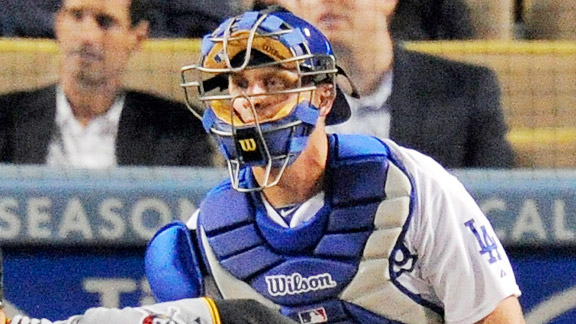 Mark J. Terrill/AP
Tim Federowicz
(21)
The setup: A 24-year-old catcher who had a .745 OPS with Boston's Double-A affiliate Portland in the Eastern League, Federowicz came to the Dodger organization on July 31 with Juan Rodriguez and Stephen Fife in the three-team deal that sent Trayvon Robinson to Seattle. Despite praise for his defensive skills, almost every fan who cared was annoyed – a tidbit Federowicz quickly became aware of. Federowicz adapted to Triple-A Albuquerque easily enough, with a .431 on-base percentage and .627 slugging percentage in 102 plate appearances before getting a September promotion to Los Angeles.
The closeup: After making his debut in the eighth inning of a September 11 game against the Giants and striking out in the ninth, Federowicz reached base three times in his first career start September 15, on a hit-by-pitch, a single to center and a walk. He singled and walked in his next start two days later, then went 0 for 7 for the remainder of the season to finish 2 for 13 with a .313 on-base percentage and no extra-base hits. He threw out two of five runners attempting to steal.
Coming attractions: Federowicz has a big ally in Dodger general manager Ned Colletti, who moved Trayvon and earth to acquire him. The signing of a veteran catcher would probably mean that Federowicz starts the next season with more seasoning in the minors, because A.J. Ellis is finally out of options. Either way, Right Said Fed figures to be sexy enough to play in 50 to 100 games for Los Angeles in 2012.