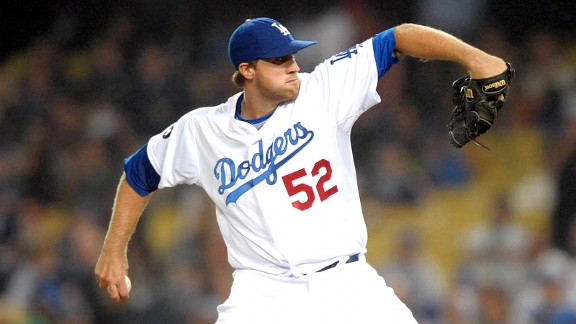 Kirby Lee/US Presswire
Josh Lindblom
(22)
The setup: The second-round draft pick from 2008 has had Dodger minor-league watchers excited about his potential for some time, especially with a 2.54 ERA and 36 strikeouts in 39 innings for Albuquerque in 2009, but his star dimmed in a rough 2010 (6.54 ERA with the Isotopes). As with Scott Elbert, the Dodgers' indecision about whether to make him a starting pitcher or not didn't seem to help, but as with Elbert, the team committed to making him a reliever in 2011.
The closeup: Lindblom began the year in Double-A Chattanooga and thrived in three stints down there, totaling a 2.13 ERA, 54 strikeouts in 42 1/3 innings with 48 baserunners allowed. He came up to the big club on May 29 when Kenley Jansen went on the disabled list for what figured to be a temporary stay, but he made a decent first impression with a 1.69 ERA in 10 2/3 innings, though he struck out only five and allowed three of four inherited runners to score. Lindblom went back to Double-A after Jansen returned to active duty, allowed two runs on 11 baserunners in 17 innings while striking out 18, then came back when Jansen had his cardiac arrhythmia at the end of July.
From that point on, except for a one-week roster-crunch detour to the minors in late August, Lindblom was pretty much a Dodger to stay. Though his season ERA with the Dodgers rose to 2.73, he was actually more convincing the second time around, stranding nine of 11 inherited runners and striking out 23 in 19 innings while allowing only 20 baserunners. His highlight: September 14, when he was suddenly pushed into a game against National League West champion Arizona after Clayton Kershaw was ejected and struck out the side in the sixth inning and two more in the seventh.
Coming attractions: One of the Dodgers' bright young firebrand firemen, the 24-year-old righty should join Jansen, Elbert and Javy Guerra as one of at least four 26-and-under pitchers in the 2012 bullpen.