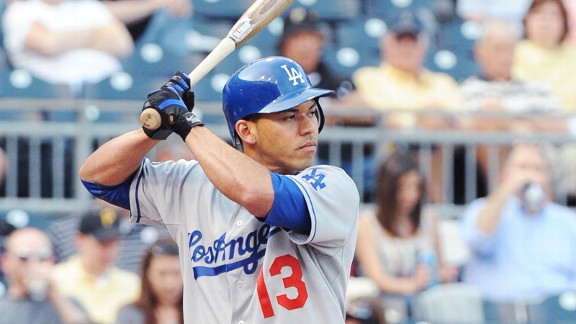 George Gojkovich/Getty Images
Ivan De Jesus Jr.
(23)
The setup: De Jesus spent 2010 trying to come back from the broken leg that ruined his 2009. The results were uninspiring: a .740 OPS with Triple-A Albuquerque. It was the wrong direction for a player who in 2008 put together a .419 on-base percentage in the Southern League at age 21. That left his prognosis for 2011 decidedly mixed, though there was definitely the possibility of him winning a spot somewhere on the major-league roster.
The closeup: Thanks to Dodger injuries, De Jesus started two of the team's first three games, going 0 for 7 with a walk and five strikeouts. He made a round trip on the Albuquerque-Los Angeles shuttle, coming back April 12 when Rafael Furcal punched his buy-12, get-one-free card for the disabled list. De Jesus got his first major-league hit in his ninth at-bat of the season, then hardly played for the next week. At the time, one might have spotted pockets of a "Free De Jesus" movement building hither and yon.
De Jesus got five starts in late April and early May and went 5 for 17 with a walk, but the infrequency of his playing time illustrated that the Dodgers just weren't ready to commit to him — especially with Aaron Miles around. On May 13, De Jesus was replaced on the active roster by none other than Juan Castro and managed only one at-bat in the majors the remainder of the season.
His final totals: a .235 on-base percentage and .188 slugging in 35 plate appearances — not much, though still more productive than Eugenio Velez. In the minors, De Jesus did show improvement, with a .389 OBP and .432 slugging. But for the second year in a row, he watched others from Albuquerque get a September callup, while he put his glove and bat away.
Coming attractions: The fact that Justin Sellers has surpassed De Jesus on the Dodger depth chart says a lot about the latter's standing with the franchise. As was the case in 2011, De Jesus will begin Spring Training in the running for a major-league spot, and it's certainly not too late for the 24-year-old to make a positive impression. But the likelihood is for him to begin the season in Albuquerque with the hopes of working his way out.