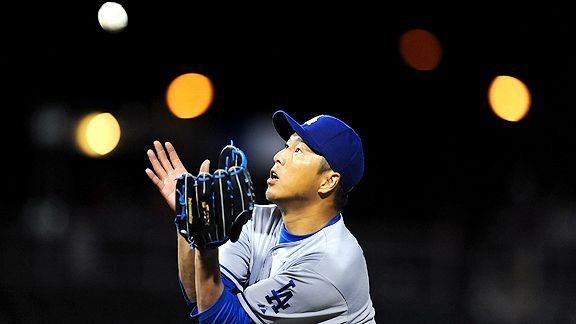 Norm Hall/Getty Images
Hiroki Kuroda
(24)
The setup: Amid much speculation that he might sign elsewhere, namely Japan, Kuroda returned to the Dodgers on a one-year contract he signed in November for $12 million, one-third of which was deferred. He was coming off his best of three seasons as a Dodgers: a 3.39 ERA with 7.3 strikeouts per nine innings.
The closeup: Despite turning 36 in February, Kuroda topped himself yet again, turning in his best ERA as a Dodger (3.07, ninth in the National League) in a career-high 32 starts and 202 innings with 7.2 strikeouts per nine innings. At the start of July, it was Kuroda, not Clayton Kershaw, who was leading the Dodgers in ERA.
Kuroda was also one of many symbols of the Dodgers' woebegone first four months: At the end of July, even as he was cruising with a 3.11 ERA, Kuroda had a 6-13 won-lost record and was threatening to become the unluckiest starting pitcher in Los Angeles Dodger history. But after choosing to stay with the Dodgers rather than be traded to a contender, he finished the year winning seven of his final 10 decisions (with a 3.00 ERA).
Kuroda's 16 losses were still the most by a Dodger since Orel Hershiser in 1987, but only Kevin Brown has ever had a better adjusted ERA for a season in Los Angeles at the age of at least 36. In exactly 25 percent of his starts, Kuroda pitched shutout ball for at least six innings, and his 22 quality starts were tied for 11th in the NL. And he was just a lot of fun to have on the team.
Coming attractions: No one's expecting Kuroda to sign anywhere on this continent except Los Angeles for 2012, but no one's saying which continent he'll choose. Ned Colletti told Tony Jackson of ESPNLosAngeles.com that the Dodgers might not have an answer until after free agency begins. If Kuroda returns, it might be asking too much to hope he would duplicate his 2010 or 2011 performances, but expecting that he would be a useful (not to mention joyful to watch) member of the starting rotation doesn't seem unreasonable.