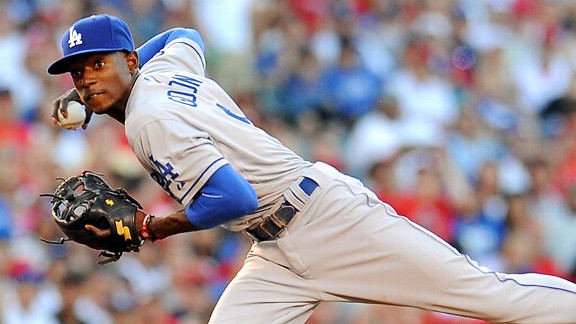 Jayne Kamin-Oncea/US Presswire
Dee Gordon
(25)
The setup: Many branded Gordon the Dodgers' shortstop of the future, but not without reservations. He had a .332 on-base percentage and .355 slugging percentage with 53 steals in 73 attempts and 37 errors for Double-A Chattanooga at age 22. This prediction from January rather accurately laid things out:
… In different circumstances, 2012 might seem to be the earliest Gordon would reach the majors, with a starting job not in sight for at least another year after that. However, 2011 likely marks the end of the six-year Rafael Furcal era, and by now it's safe to expect that that era will include at least one more trip to the disabled list for the otherwise talented Dodger shortstop. While Jamey Carroll has shown he can fill in for Furcal, a prolonged absence conceivably could compel the Dodgers to accelerate Gordon's timetable, allowing him to reach the majors this summer. …
The closeup: Yep, that's what happened … not that it wasn't still something of a shock when Gordon got the call to the majors June 6. Playing for Triple-A Albuquerque, he had a .361 on-base percentage and 22 steals in 25 attempts, but there was still the fear that this promotion was coming too soon and that the majors would eat Gordon up.
After making his debut as a pinch-runner (and scoring) that night in Philadelphia, Gordon got his first major-league start the next day. It certainly helps calm the naysayers when you get hits in your first three at-bats, as Gordon did. Gordon's speed and defensive range and overall sparkle became immediately apparent, so much so that it encouraged one to be patient with his weaknesses.
That patience would be necessary. After starting out 14 for 43 (.326) with one walk and eight strikeouts in his first 10 starts, Gordon went into a 5 for 39 slump that left his OPS at .530. Nine steals in 12 attempts couldn't make up for that. He would have games like this one on June 13 in which he'd electrify the offense in one moment and then make a critical error on defense in the next.
On July 1, Gordon became the first Dodger in 83 years to steal second, third and home in the same inning. But a few days later, when Rafael Furcal was activated from the disabled list, and Gordon was sent back to Albuquerque, it was easy to understand. The kid still had things to work on, and he needed to play every day.
Gordon came back to Los Angeles after St. Louis traded for Furcal, but his second stint was short-lived. He hurt his shoulder making an awkward tag on a rundown play August 6, aggravated the injury a few days later and ended up missing the rest of August. Again, as disappointing as this was, there was some upside in the possibility that Gordon might learn to take better care of his body.
In September, Gordon gave the Dodgers a treat. Playing 26 games in 28 days, Gordon had 42 hits — most in the National League — along with 12 steals in 16 attempts, seven doubles and a triple for an .850 OPS. He finished the 2011 major-league season with a .325 on-base percentage and 362 slugging percentage, and his 24 steals (in 31 attempts) tied for the most by a rookie in the NL. Of the 48 Dodgers who suited up in 2011, Gordon finished ninth in Value Over Replacement Player. For all his foibles, it's hard to call this anything but an impressive debut.
Coming attractions: Gordon eliminated all doubt that he'll be the starting shortstop when the calendar turns to 2012. Now, that doesn't mean he has put the minors behind him forever — he could struggle with the bat as pitchers exploit his lack of walking ability and find himself back in training mode. But the best guess is that you're looking at the Dodgers' 6-man for the next several years. If he improves his defensive fundamentals and maintains that wonderful speed, the Dodgers can live with his offense at shortstop.