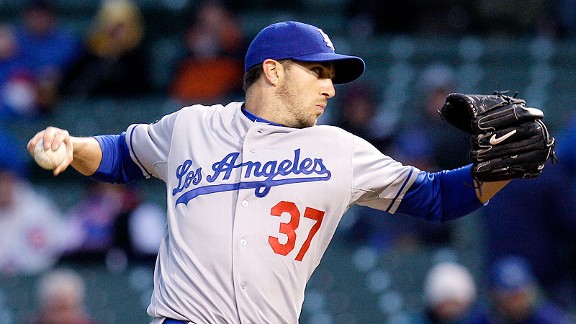 Nam Y. Huh/AP
Lance Cormier
(26)
The setup: Signed to a minor-league contract in February, the 30-year-old Cormier was coming off three straight adequate years in the American League in which he pitched in 158 games with a 3.71 ERA. He walked four batters per nine innings in that time, so he was no one's idea of a savior, but he was coming off a better year than, say, Mike MacDougal.
The closeup: Um, yikes. Thrust into a mop-up role, Cormier kept spilling the bucket, allowing 11 runs (nine earned) in seven innings over his first four appearances through April 15. He pitched only three games in the next month.
On May 18, the Dodgers rallied from deficits of 4-0 in the fifth inning and 5-2 in the eighth to tie the Giants, 5-5. But they had used three relievers in the process, and three others were unavailable (Vicente Padilla had forearm stiffness, while Kenley Jansen had pitched four of the past five days and Matt Guerrier the past two). So they turned to Cormier, who hadn't pitched in a game closer than three runs all season. With two out and two on, Cormier allowed a three-run, game-winning home run to Cody Ross.
Cormier pitched one more game for Los Angeles, giving up two runs in two innings to lower his 2011 ERA to 9.88 in 13 2/3 innings. On May 24, he was designated for assignment, making room for Rubby De La Rosa. Cormier returned to the Tampa Bay organization, spending the rest of the year in Triple-A Durham with a 5.51 ERA, allowing 80 baserunners while striking out 25 in 47 1/3 innings.
Coming attractions: Cormier faces an uphill march trying to get back in the majors, but with relievers, you never know.