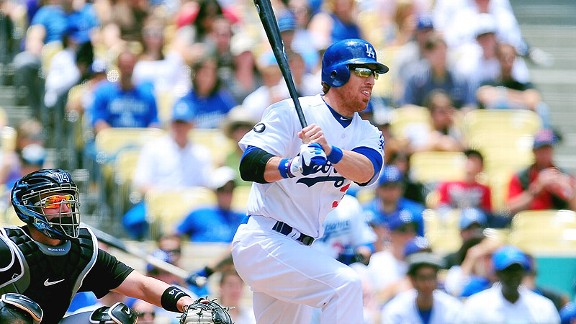 Gary A. Vasquez/US Presswire
Jay Gibbons
(27)
The setup: When Gibbons hit his fifth home in about a month with the Dodgers late in the 2010 season, it seemed clear that the power-starved team would be signing him up for 2011 – and sure enough, that's what happened. Having OPSed .819 in his short 2010 spurt, Gibbons was expected to begin the season as part of a left-field platoon. Then, in March, word began to surface that Gibbons was having eye problems, and then some. His comeback story detoured into a season-opening journey to the disabled list.
The closeup: Gibbons eventually returned to active duty in April with Albuquerque and OPSed .832 in 49 April at-bats, convincing the Dodgers (to at least hope) he was ready for major-league pitching (as his platoon partner, Marcus Thames, went on the disabled list). From May 3 to June 3, Gibbons played in 24 of 28 Dodger games, starting 15, with a .323 on-base percentage and .345 slugging percentage – including a .359/.432 surge in the last 12. Though those weren't dominant numbers, they were good enough on a struggling team and heading in the right direction that it came as some surprise that the Dodgers designated Gibbons for assignment on June 6. Technically, Gibbons' departure made room for the return of Thames (who himself was eventually cut loose for Juan Rivera) but effectively, Gibbons' role as a left-handed hitting reserve outfielder was taken by Trent Oeltjen, who was called up June 9 and remained on the team for the rest of the year.
Gibbons cleared waivers and finished the year with the Isotopes, for whom he ended up with a .403 on-base percentage and .456 slugging percentage. His entire Dodger career consisted of 61 games, 142 plate appearances, six home runs and a .755 OPS.
Coming attractions: Gibbons, who will be 35 in March, is a free agent.