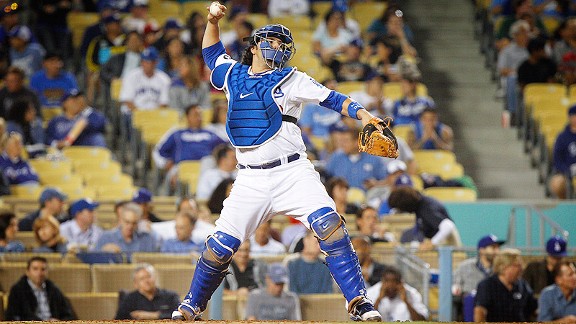 Ric Tapia/Icon SMI
Rod Barajas
(28)
The setup: Barajas bashed the ball for the Dodgers last year (.939 OPS, five home runs in 72 plate appearances) in a short stint after the Mets designated him for assignment in August 2010. In a 24-hour whirlwind that December, the Dodgers cut ties with incumbent-but-injured Russell Martin and signed Barajas to a one-year, $3.25 million deal for 2011, in contrast to the $500,000 plus incentives the Mets had guaranteed Barajas 9 1/2 months earlier. At his peak, Barajas had never been guaranteed more than $3.2 million for a year, and neither Eric Stephen of True Blue L.A. nor myself thought Barajas could get more than $2 million. Though there was a cost savings in switching Martin's uncertain future for Barajas, and though Barajas was a Southern Californian happy to be with the Dodgers, the contract had small-scale blunder written all over it, the same way that the second years in Los Angeles for Marlon Anderson and Ronnie Belliard went so unhappily.
The closeup: Not unlike Martin, whose surge-and-retreat year for the Yankees ended with a .723 OPS (92 OPS+), Barajas had a streaky 2011. His OPS was .635 at the end of July, before he connected for a .403 on-base percentage, .750 slugging percentage and six home runs in 62 plate appearances in August. His 10 total bases (two home runs and a double) against St. Louis on August 23 were unsurpassed by any Dodger this year. Thanks to that, he was able to finish the year with a .717 OPS that was slightly lower than Martin's but a 97 OPS+ that was slightly higher. Barajas finished second on the Dodgers in home runs with 16, a mere 23 behind the team leader, despite missing a month at midseason with a sprained ankle and playing in only 98 games, seventh on the team. Fangraphs pegged Barajas' value for 2011 at $5.8 million, Martin $13.8 million.
As late as August 23, Barajas had the same number of home runs and walks (14 of each), but he avoided becoming the rare Dodger to finish with more round-trippers than free-trippers, ending the year with 16 of one and 22 of the other. He threw out 20 of 80 runners attempting to steal.
Coming attractions: Barajas, who turned 36 in September, is a free agent who will sign somewhere for next year, but his Dodger future depends on his willingness to reduce that 2011 salary. His Los Angeles return would allow the Dodgers to slow-cook Tim Federowicz, who has played only 115 games above Single-A in his career, in the minors a bit longer next spring. But no outsider seems sure about whether Barajas will wear Dodger white and blue in 2012, and I don't know that any insiders are sure either.