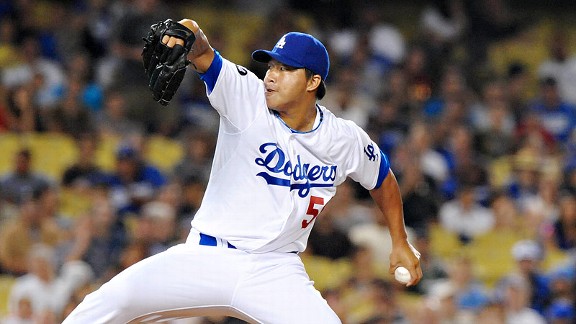 Kirby Lee/US Presswire
Hong-Chih Kuo
(29)
The setup: Coming off his spectacular 2010 (1.20 ERA, .211 opposing on-base percentage, 73 strikeouts in 60 innings and a career-high 56 games) and three years removed from his most recent surgery, Kuo was expected to be an integral, if not the most integral, component to the Dodger bullpen.
The closeup: It was a bruising season for Kuo.
He lasted fewer than three weeks before he landed on the disabled list April 16 with a lower back strain, related to problems we would learn had been with him since the season began. That, at the time, seemed to explain why Kuo had walked four in 2 2/3 innings of a shaky start to 2011. Kuo returned to active duty May 1, only to be charged with four runs on a walk, a hit batter and two singles in one-third of an inning that night, though three of those runners scored with Mike MacDougal on the mound. Kuo's ERA soared to 15.00; it would never drop below 8.00 at any point in the remainder of the year.
Only 10 days later, on May 11, Kuo went back to the disabled list, but not for physical reasons. Officially sidelined by "anxiety disorder," Kuo was the subject of a piece by Ken Rosenthal of Fox Sports in late June:
… Kuo, who turns 30 next month, is one of the game's top left-handed relievers when healthy. But he has undergone four elbow operations and battled the "yips" — an inability to throw the ball with accuracy — in 2009. In early May, during a series in Pittsburgh, he told Conte he no longer could pitch due to his anxiety.

Conte, after receiving permission from Kuo, spoke at length about the pitcher's condition.

"The analogy I use is if you're scared of small places, you're claustrophobic and you're scared of snakes. But you're really good at catching those snakes, and they ask you every day to walk into a small, closed window-less room to grab them," Conte said.

"They bite you. It hurts. But you're the best in the world at doing it and they pay you a lot of money to do it. And every day it becomes worse and worse. It makes you believe you can't do it, not for glory, not for fame, not for money.

"That's how he was in Pittsburgh. He was like a guy in water who couldn't float and begging to get out of the water. It was very emotional, the way he was begging us not to put him out there." …
When Kuo came back on June 21, it still wasn't with any sort of consistency, allowing at least one run or one inherited run in 14 of 31 appearances through the end of the season. He could still strike batters out at an incredible rate – 36 in 27 innings – but he couldn't be relied upon to do so without putting a bunch on base.
In September, Kuo did have two games in which he pitched two shutout innings. The first, on September 2, earned him his only victory of the season. The second, on September 24, lowered his season ERA to exactly 9.00. Kuo, who had allowed 48 baserunners in 60 innings the year before, finished with 49 in 27 innings this time.
Coming attractions: Entering the offseason, Kuo figured to become a free agent based on the assumption that the Dodgers will not tender him a contract that would commit them to paying well over $2 million in 2012. Though Kuo himself speculated to Ken Gurnick of MLB.com that he might retire, he was planning to pitch in a series of exhibition games against major-leaguers in his native Taiwan – only to come down with left-elbow discomfort, as Tony Jackson of ESPNLosAngeles.com reports.
If and when he's ready to resume his major-league career, Kuo (like Hiroki Kuroda) might decide he's only comfortable doing so with the Dodgers, who could re-sign him for a lower base salary after non-tendering him. It is a very uncertain future for Kuo in baseball to say the least, but I'll always be struck by how Dodger fans, who can be a bitterly impatient lot when it comes to struggling players, always seemed to stand by Kuo no matter how bad it got. Signed by the organization in 1999 and a battler almost every day since, sidelined by the first of two Tommy John surgeries after his very first game in the minors in 2000, Kuo has earned tons of respect from this community.