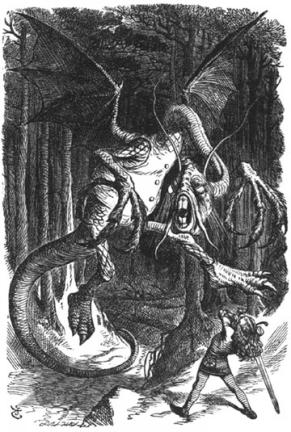 'Twas brillig for our suddenly slithy toves the Dodgers, who had only made three errors all spring but got three errors from their shortstops alone today, accounting for two unearned runs in a 5-2 loss to Colorado.
Jerry Hairston Jr. did gyre and gimble in the wabe, making two of the errors while going 0 for 2. The poor day raised questions among the Jabberwock about whether Hairston could rise to the occasion should something decidedly unmimsy happen to Dee Gordon (who also made an error today). To which I offer these uffish thoughts:
1) One game is one game.
2) The plan to confine superior defensive shortstop Juan Uribe to third base isn't all that likely to hold throughout the season.
3) Justin Sellers is likely to be the true backup shortstop at this point, whether he's in the majors or the minors, so why so slithy?
Taking the vorpal blade of that last point, there's surprise being expressed that Jerry Sands might not make the Opening Day roster and will instead be sent to rest by the Tumtum tree. Nonsense. Sands needed something of a perfect storm to come whiffling through the tulgey wood April 5: a solid spring at the plate combined with legitimate fears that Andre Ethier, James Loney or Juan Rivera wouldn't be everyday players. But we knew all along that all three of those veterans were being handed those jobs to lose, and that Sands might easily be marginalized come the frabjous day.
* * *