Join the Dodger Thoughts March Madness Tournament Challenge here.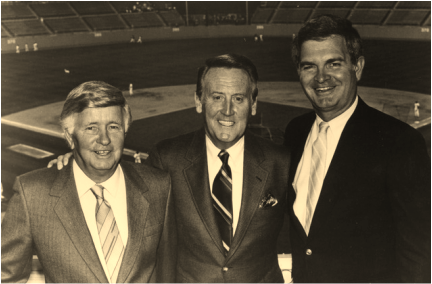 You might remember Paul Haddad, the longtime Dodger fan whose childhood audio recordings of Dodger broadcasts provided source material for the ESPN documentary Fernando Nation. Haddad has now published a book based on those recordings: High Fives, Pennant Drives and Fernandomania — A Fan's History of the Los Angeles Dodgers' Glory Years, 1977-1981.
It's a fun, sprightly read that I think any Dodger fan will enjoy. I was honored to be asked by Haddad to write the foreword, but you can find out much more about the book at Haddad's website, Dodgerglory.com, including book excerpts and samples of some of Haddad's recordings. Perhaps you might start by hearing Vin Scully call an inside-the-park home run by Davey Lopes in 1978, or Joe Ferguson's memorable homer on the final Friday of the season to beat Houston in 1980. A treasure trove, I tells ya.
* * *
That's not all from the bookshelf today. My past newspaper colleagues and longtime friends, Dodger team historian Mark Langill and publications director Jorge Martin, have put together a book, Dodgers: From Coast to Coast – The Official Visual History of the Dodgers, with 256 pages of first-person essays by past Dodgers, classic magazine articles and wonderful photos. Vin Scully wrote the foreword.
It will be released the day of the Dodgers' home opener, April 10, and you can also order it online. Looks like another keeper.