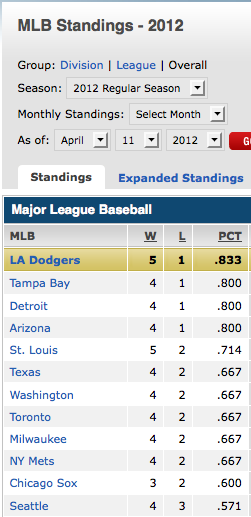 Crashing the boards.
A 4-1 victory over the Pirates pushed the Dodgers to a 5-1 record in this young season. It wasn't a perfect game, but one that was the ongoing equivalent of rebounding your missed shot and putting it in the hoop.
Chad Billingsley gives up a home run to light-hittting Clint Barmes in the third, but recovers to shut Pittsburgh out through his three remaining innings. Billingsley gives up two hits with one out in the sixth, then wraps things up when Neil Walker hits a soft liner with two on and one out for an inning-ending double play.
The Dodgers waste two baserunners in the first inning, but score a tying run in the bottom of the third and a go-ahead run in the bottom of the sixth. Dee Gordon starts his night 0 for 3, then doubles to kick-start a two-run seventh.
Los Angeles is winning even as half their lineup clanks one shot off the rim after another. They're doing so because Matt Kemp (3 for 4), Juan Rivera (3 for 4) and Andre Ethier (2 for 4) keep banging the boards, and because the bullpen (Matt Guerrier, Kenley Jansen and Javy Guerra) keeps running a nice pick-and-roll at the end of the game.
The words "enjoy it while it lasts" come to mind. Fair enough.