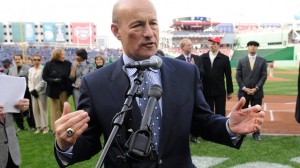 Incoming Dodger co-owner and organization leader Stan Kasten has no history of handing out mega-contracts, despite his teams having money to spend, writes Jayson Stark of ESPN.com:
… Well, what do you find if you study Kasten's past, back in the day when he was the president of the Atlanta Braves (1986-2003) and Washington Nationals (2006-10)? You don't find a single contract that will remind you of, say, the Prince Fielder deal. We'll tell you that.

In all that time, Kasten's teams never handed out a contract longer than five years to any free agent from outside their organization. And the only six-year deal, even to one of their own players, went to Andruw Jones in 2001 — at a time when he was 24 years old.

So do people within the industry see this man suddenly turning into a spend-a-holic who starts firing nine- and 10-year deals at whoever wants to take them? Heck, no.

"That's not Stan Kasten's M.O," said one veteran agent. "I'm sure they'll be a franchise that makes moves. But I'm also sure that when Stan makes decisions, it won't be like the kind of decisions Mike Illitch makes."

"When it looks like a sure thing, it ain't," said another prominent agent. "Look at the Nationals. Ted Lerner has more money than God, and look how long it took him to start handing out big contracts. And did he hand them out while Stan was there? No. It happened after he left. So I know everyone anticipates him spending wildly now. But I'm not so sure."

Is it coincidence that the Nationals stuffed $126 million in Jayson Werth's pockets a couple of months after Kasten departed? We don't know anyone in baseball who thinks Kasten would have signed off on that deal. …

… Nobody in baseball has a better feel for that than Kasten's longtime general manager in Atlanta, John Schuerholz.

"It's fair to say this group is out to re-establish the great Dodger brand," Schuerholz told Rumblings. "But how that translates into making decisions to spend big money on big-name free agents, I don't think that's automatic."

Now would Schuerholz be surprised to see the Kasten/Magic Dodgers chasing the most ballyhooed free agents in the game? No, he "wouldn't be surprised to see them do that," he said.

"But I don't think they'll do it every day," Schuerholz said. "I don't think they'll do it all the time. What I'm sure they'll do is what Stan has always tried to do — build a rock-solid organization and build it largely around homegrown talent. And at the same time, I'm sure he won't shy away from the right free agent. But I underline the word, 'right.'" …
Stark has more, so check out the entire piece.