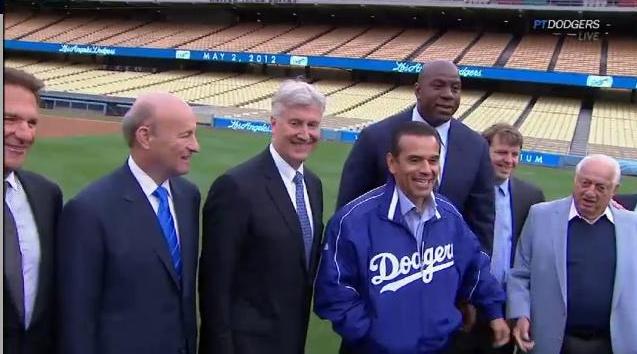 Dodgers at Rockies, 12:10 p.m.
Kershaw CXXII: Kershawut of Africa
Tony Gwynn Jr., LF
Mark Ellis, 2B
Matt Kemp, CF
Juan Rivera, 1B
Andre Ethier, RF
Jerry Hairston Jr., 3B
Justin Sellers, SS
A.J. Ellis, C
Clayton Kershaw, P
In addition to television coverage on Prime Ticket and KCAL, the press conference introducing the new Dodger ownership team will be streamed at MLB.com and FoxSportsWest.com. Time permitting, I will live-blog some quotes in this space.
Vin Scully: "By the time the day is over, you will sense the following things … commitment, fan-friendly, definition of winning, complete and honorable way to get there, and above all, longevity."
Mayor Antonio Villaraigosa on Mark Walter: "A man who realizes that the owners of this team are really the people of this town."
Scully, telling the tale of a young prospect. "The manager was asked, 'Just how good is this kid, what's his ceiling, how high can he go?' The manager thought for a moment, and said, 'His ceiling is the ceiling of the Sistine Chapel.' It's time now to meet the group that will take the Dodgers higher than the ceiling of the Sistine Chapel."
Walter: "Thank you, Mr. Scully."
Walter: "This is really not about us. This is about the Dodgers. One of the most honored and storied franchises in history, with limitless pride and potential. And for us, the Dodgers begin with the fans. … We are passionate about making this organization the best it can be in every respect, from winning, to its relationship with the community and to all the philanthropic things it can be a platform with. We know this is going to be hard work, and it's going to take time … but I promise you this commitment to work will be a labor of love."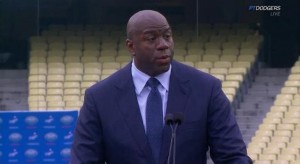 Magic Johnson: "I just talked to the employees. It starts with you, because if you're the best, it trickles down to the players on the field."
Johnson: "Yes, we're in first place, but it's early in the season, so we want to continue to support the team. We know we have the best pitcher in baseball in Clayton Kershaw and the best player in baseball in Matt Kemp."
Johnson: "We're going to outwork everybody. I can't wait until my office is done. … I told my team, I'm a man who gets up early and will be here early."
Johnson: "Mr. O'Malley, thank you. We don't have to reinvent the wheel, we just have to go back to the time where you had it before."
Johnson: "Chick Hearn used to call my games, the sweertst voice in basketball. And now I get the cahnce, the sweetest voice, I'm almost about to cry, and now I got Vin Scully."
Johnson: "General parking is going down from $15 to $10."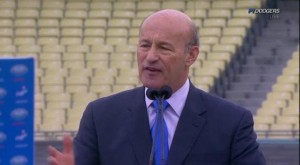 Stan Kasten: "The team, the fan experience and our relationship with our community. I assure you I could spend an hour on each of these subjects … and I'm just coming off a six-month gag order, so I've got a lot to say."
Kasten: "A culture of winning – for me, that has always started and ended with a scouting and player development system … both domestically and increasingly important, internationally."
Kasten: "The other commitment we want to make is our own personal availability and accessibility. … You won't have to look for me. I'll be on the concourse."
Kasten: "Today I want to announce a special e-mail suggestion box: fanbox@ladodgers.com. We want to hear from all of you. Send us your thoughts and your suggestions … this is how we're going to do it."
Kasten: "We're going to liberalize our policy for access to batting practice. We're going to have more access for autographs.  We're going to do a lot more with social media. … There will be times you will have players in full uniform greeting fans at the gate. The players understand why this is important. You never get any pushback – you just have to ask them."
Scully: "Walking across the field with Ned Colletti, it seemed like just yesterday we were just introducing Joe Torre and the McCourts. And my mind began to wonder, and I realized I was there to see Branch Rickey hand off the franchise to Walter O'Malley."
Rob Manfred, MLB executive: "Dodger fans have stayed loyal through difficult times, and we know this ownership group will reward them for their support."
Scully: "I will finish with a disappointing note.  … They were going to have a small basketball court put out here, and Magic and I were going to go one on one, skins against the shirts. Unfortunately during the Washington Nationals series, I suffered a split infinitive and will not be able to contest."
Moving on to the Q&A …
Kasten (slight paraphrase): "No team has had sustained success without a sound scouting and player development system. But we understand where we are, this market, this fan base … these fans deserve a team that can win, can repeat, can contend well. We intend to be aggressive with that as well. We're not going to pass up any opportunity. We're not going to wait for 25 kids to grow into their uniform."
Johnson: "I'm gonna be involved — heavily."
Walter: "A hundred percent of all the operations of this baseball team … everything that happens in Chavez Ravine and the Dodgers is controlled and managed by us, and all of the money from all that goes to the Dodgers. Former ownership does have an economic interest in the profits from the possible eventual development of any part of the property, but that's down the road. In terms of current operations, parking, it's not related to that."
Johnson: "I don't want the fans to think just because we wrote a big check that we're gonna stop now. … We're out to win, and we're out to win for the fans. I don't want that question to go, 'Now we're short on money.' … I didn't come here to not win and not give the fans a great experience, because they deserve that."
Kasten: "During the due diligence phase of this purchase, I had a day where we brought in a dozen engineers to really survey the building. That's why I referred to the back-of-the-house  things that need near-term attention: power, water, information systems. As far as enhancements, we have ideas. … Our plan is to retain those things that make this ballpark so special but try to upgrade the experience so that it's more in keeping with what fans can expect in the 21st century. We think we can do both."
Walter: "We don't have any plans for development, but there's 300 acres here. I don't know what the future may or may not hold, but we don't have any current plans."
Kasten: "Nothing can be developed if we don't think it's good for our fans and (the franchise)."
Johnson: "Frank McCourt is not involved in any, shape, fashion. If you need me to come up, I'm 6-9. The rumors, we're squashing them right now … his only future profits is from new development, if we do any. There's nothing on the table."
Johnson: "This franchise is moving forward with us. If (McCourt) is part of the future development, so what? … That's how you got to get it sometimes. We own it. We control everything. Fans got to understand, we're going to make sure we're going to win and have a great team every day and that they're going to have a great experience. … Frank's not here, he's not part of the Dodgers anymore — we should be clapping just for that."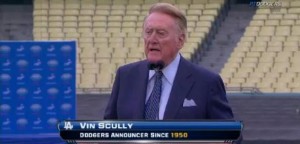 Walter: "It is a lot of money. I believe the value is there. If we do things right … I believe people will look back and say the value is there.
Scully: "I am telling each and every one of you right now — this is the last new ownership press conference I will ever attend."
* * *
Using data from Baseball Info Solutions, ESPN.com determined that Jerry Hariston, Jr. was April's top defensive player in the National League.


… Hairston was able to make the good play and the great play. He finished April tied with Ryan Zimmerman for the major league lead with four Web Gems (including the No. 1 Gem on consecutive nights). He was credited with one Defensive Run Saved at second base, one at third base and two in left field.

Hairston finished April with a Good Play/Misplay tally of 11 to 1 in only 15 games in his first month with the Dodgers.

His highlight-reel play came on April 19 against the Milwaukee Brewers while playing third base, when he robbed Alex Gonzalez of the game-tying hit in the eighth inning with a diving stop and throw from his knees on a groundball down the line.

The next day, he missed on a similar diving attempt against Jose Altuve of the Astros, but then sprinted into foul territory and threw a strike to second base to nail Altuve's attempt at an extra-base hit.

Hairston got six of our 10 first-place votes, and even someone who voted him second-best was quite impressed. "No matter where you put him on the field, he posseses the ability to make a dynamic play," Singleton said. "His value as a utility player is as high as anyone on the defensive side." …

Ted Lilly left Tuesday's game after six innings and 79 pitches because of a stiff side muscle, while Juan Uribe re-injured his wrist during batting practice, according to Dylan Hernandez of the Times. No immediate word on whether the pair might miss more playing time.
Albuquerque infielder Luis Cruz has known Isotopes manager Lorenzo Bundy since childhood, writes Christopher Jackson of Albuquerque Baseball Examiner.
Clayton Kershaw's ERA at Coors Field: 6.75 in 2011, 5.88 in his career (49 innings).