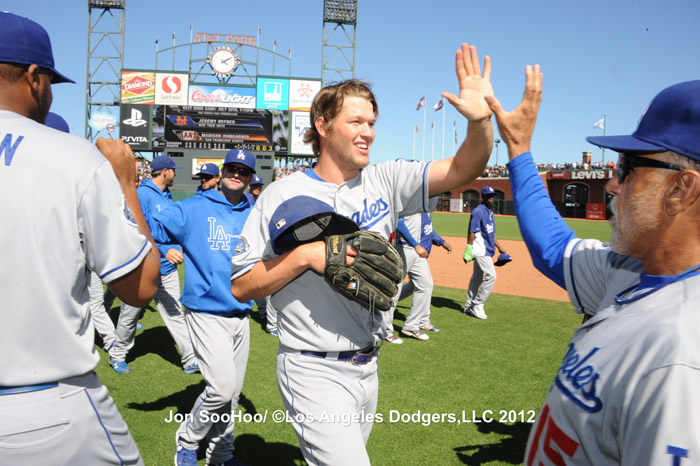 Well, that went well.
Yes, I had my guard up. No, I wasn't ready for this.
For the first time since the teams moved to the West Coast 54 years ago, the Dodgers shut out the Giants in consecutive games in San Francisco.
Clayton Kershaw picked up where Chad Billingsley and Javy Guerra left off, surviving some hard-hit balls – including one off his glove wrist –  to pitch a five-hitter with one walk and seven strikeouts for his fifth career solo blanking, defeating the Giants, 4-0.
San Francisco's three-game shutout sweep of the Dodgers this season has been avenged.
The Dodgers had 16 baserunners, not counting the dropped pop-up by James Loney that hepled them take a 2-0 lead in the fourth inning. The second run was driven home by the redoubtable Luis Cruz, who extended his hitting streak to 12 games (and finally pushed his on-base percentage over .300 in the process). Cruz, who went 2 for 4, made his second error as a Dodger as well, but like Elian Herrera before him, has generally done everything the Dodgers could have hoped from such an unheralded contributor.
(Herrera, in case you were wondering, is OPSing .729 since returning to Albuquerque.)
Mark Ellis, Matt Kemp, Andre Ethier and Loney each had two hits, while A.J. Ellis became the first Dodger since Duke Snider in 1955 to have his second four-walk game in one season.
Oh – and I almost forgot to tell you – the Dodgers are almost in first place. With 59 games to go – nine against San Francisco – they trail the Giants by .001 in the National League West.