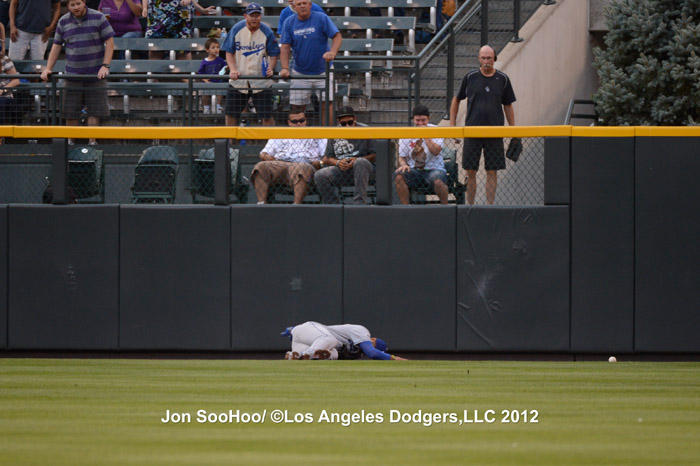 The past two nights have provided as big a gap between expectations and fulfillment as we've seen in a while, a combination of poor execution and poor luck, punctuated each time by Matt Kemp turning himself into a self-made pinata. The good news is that as soon as today, that gap can be bridged, even with Kemp spending the game on the bench. Save yourself talk of chemistry and curses – it's heartily premature.
The more real concern is that a team that finally boasts a lineup equipped for the postseason has a gap to overcome to get there first. Los Angeles has fallen a season-high 3 1/2 games behind San Francisco with 32 remaining. That's a reversal that will require a bit more patience.
It's not that the ground can't be made up – it can be, and with weeks to spare. A month from today, the Dodgers can be 3 1/2 games out of first place and still win the World Series. But I think most Dodger fans would rather feel more secure. That means having a cushion heading into the final three games of the regular season against San Francisco and a pitching staff that would test any lineup. That means going from 3 1/2 out to 3 1/2 up.
It's far too soon to panic, but it's not too soon to hope the Dodgers can pick their crumpled bodies off the ground right away. It has only taken three days for bravado to turn back into humility. Let the shell-shocking Rockies be the inspiration, and let the Dodgers now be the humble assassins.
Hit the ball, pitch the ball, catch the ball. If Colorado can do it, so can Los Angeles.