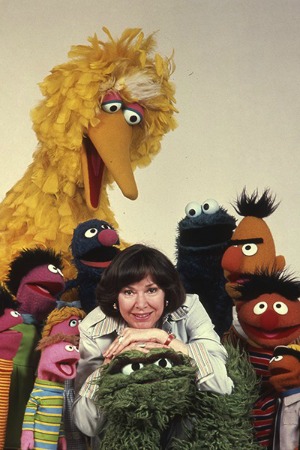 Thanks to this Lyle Spencer interview with Vin Scully on MLB.com, we learn that the night Scully broadcast the Dodgers' 1955 Game 7 World Series win, he went on a date with future "Sesame Street" creator Joan Ganz Cooney.
… "After the third out, Johnny Podres having shut them out, I was taken in a car to the Lexington Hotel with some other Dodgers people," Scully said. "I had a date, and I left the group to get my car and go pick her up. We drove over to Brooklyn for the party at the Bossert Hotel.
"It was like V-J Day and V-E Day rolled into one when we came out of the tunnel. There were thousands of people on the sidewalks leading to the hotel. There were policemen, and parking attendants who took your car about a block from the hotel. Walking down that street to the hotel, that was an unforgettable scene."
Young Vin really knew how to impress a date.
"Her name was Joan Ganz," Scully said. "She was from Arizona. I'm pretty sure she later became the creator of 'Sesame Street.' You can check on that. We liked each other and stayed in touch, but it never got serious. I haven't told this story, but what the heck. That was a long time ago."
An internet check confirmed Scully's recollection of the future of Ms. Ganz, a publicist in New York City when they met. In 1966, Joan Ganz Cooney oversaw and directed the creation of "Sesame Street," which premiered in 1969. As the first executive director for Children's Television Workshop, she was among the groundbreaking female executives in American television.
A Presidential Medal of Freedom award winner in 1995, Ganz Cooney was elected in 1989 to the Academy of Television Arts and Sciences Hall of Fame, and three years later was inducted into the National Women's Hall of Fame. Her date that memorable October night in 1955 also is a Hall of Famer, of the Cooperstown variety. …