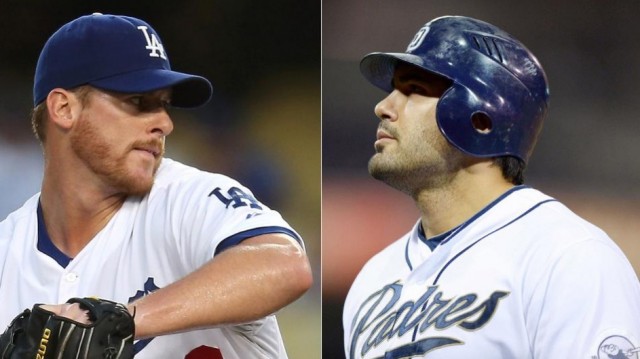 For Sports on Earth, I look ahead to the next meeting between the Dodgers and the Padres in the wake of their Thursday brawl. It comes Monday, on Jackie Robinson Night.
Dodgers at Diamondbacks, 6:40 p.m.
Kershaw CLII: Kershawvanhoe

Jerry Hairston Jr., LF
Mark Ellis, 2B
Matt Kemp, CF
Adrian Gonzalez, 1B
Juan Uribe, 3B
Andre Ethier, RF
A.J. Ellis, C
Justin Sellers, SS
Clayton Kershaw, P
Update: "Zack Greinke was examined by Dr. Neal ElAttrache today in Los Angeles and underwent a CT scan on his left clavicle," the Dodgers said in a statement. "It was determined that he should undergo surgery to place a rod in the clavicle to stabilize and align the fracture.  The surgery will be performed tomorrow by team physicians,  Drs. ElAttrache and John Itamura, at White Memorial Hospital in Los Angeles.  Greinke's expected return is eight weeks."
Shawn Tolleson has been recalled from the minors for the time being.