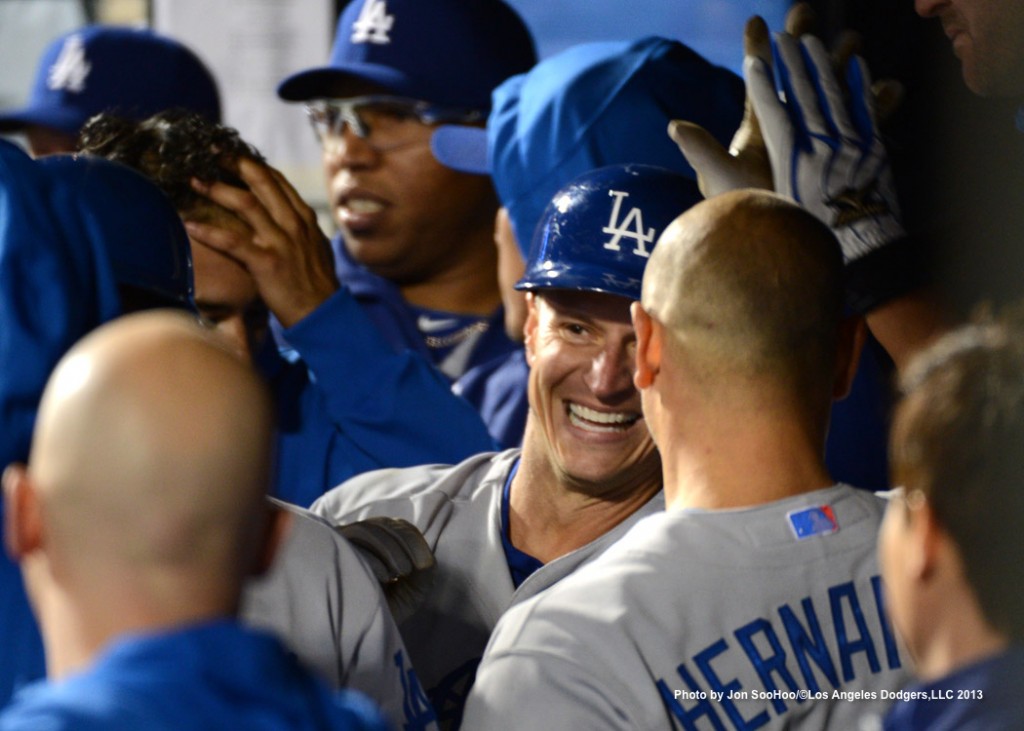 What can baseball do?
Baseball can give you joy when you can imagine only sadness.
It can also give you the reverse, but enough about last week with the Dodgers. This is this week.
For two consecutive games, the Dodgers have won when you would have thought they would lose. They won when Chad Billingsley was unable to start Sunday, and they won in New York, 7-2, after an uncharacteristic disintegration by Clayton Kershaw on Tuesday.
Kershaw, to be fair, only allowed two runs, but it was shocking how it happened. Twelve pitches in into the third inning, 39 pitches into the game, Kershaw had retired all eight batters he had faced and had a 1-2 count on an emergency relief pitcher making his first career plate appearance. Moments later, he was trailing 2-1 and barely escaping a bases-loaded jam with a Marlon Byrd groundout, and after two more innings and 111 total pitches – matching the most he has ever thrown in the majors without reaching the sixth inning – his night was over. It was the second consecutive outing in which an opposing pitcher ended a perfect start by Kershaw.
Fortunately for the Dodgers, Mark Ellis has shown up like a combination of Florence Nightengale and the Tooth Fairy. Ellis, who Sunday drove in the Dodgers' first three runs and also made a critical defensive play, all but singlehandedly put the Dodgers on his back Tuesday, with a game-tying home run in the fifth inning – the 100th of his career – and then a leap-from-your-seat three-run blast with two out in the seventh to put Los Angeles ahead to stay. (Not for nothing, Ellis also knocked out Mets starter Jonathon Niese in the third inning with a hard shot up the middle.)
Ellis' second home run, as Eric Stephen of True Blue L.A. noted, made him only the third Dodger second baseman in a century and first in 39 years with four hits and two homers in a game. The 35-year-old (how can such a veteran's veteran be 10 years younger than me) himself has now thrice homered twice in a game. I also dare say that you won't find another night in history when Dodger and Angel second basemen each hit two home runs, including tiebreaking homers for both, but I leave you the research challenge.
Not to be lost amid Ellis' glory is the day Justin Sellers had – three hits, including an RBI single in the second and another coming ahead of Ellis' second homer. (Juan Uribe drew a walk to keep that inning alive.) After starting the season 0 for 13, Sellers is 11 for 37 with a homer and five walks in his past 12 games (.409 on-base percentage, .378 slugging) and hasn't made an error since his unfortunate second game of 2013. As hot as Dee Gordon has been at the plate in Albuquerque, Sellers has allowed the Dodgers to remove the yellow caution tape around shortstop.
A.J. Ellis doubled in two insurance runs in the eighth and now leads all major-league catchers with a .446 on-base percentage and NL catchers with a 159 adjusted OPS, and not because the pitcher is batting behind him – he has batted no lower than seventh except for in the third game of the season. Matt Kemp had two more hits and is now 17 for his past 55 (.309) with four doubles, as MLB.com noted, while Andre Ethier doubled ahead of A.J. to slow a 2-for-25 slump.
In addition, the topsy-turvy Dodger bullpen of 2013 has gone back to topsy, pitching at least four innings of shutout ball for the second consecutive game, sparked by a comeback performance by struggling Ronald Belisario (three batters, three outs on 15 pitches, 12 for strikes).
Los Angeles is now 9-4 when it isn't losing six games in a row. Joy and sadness, that's our game. With Ted Lilly against Matt Harvey tonight, it figures to be more of the same.