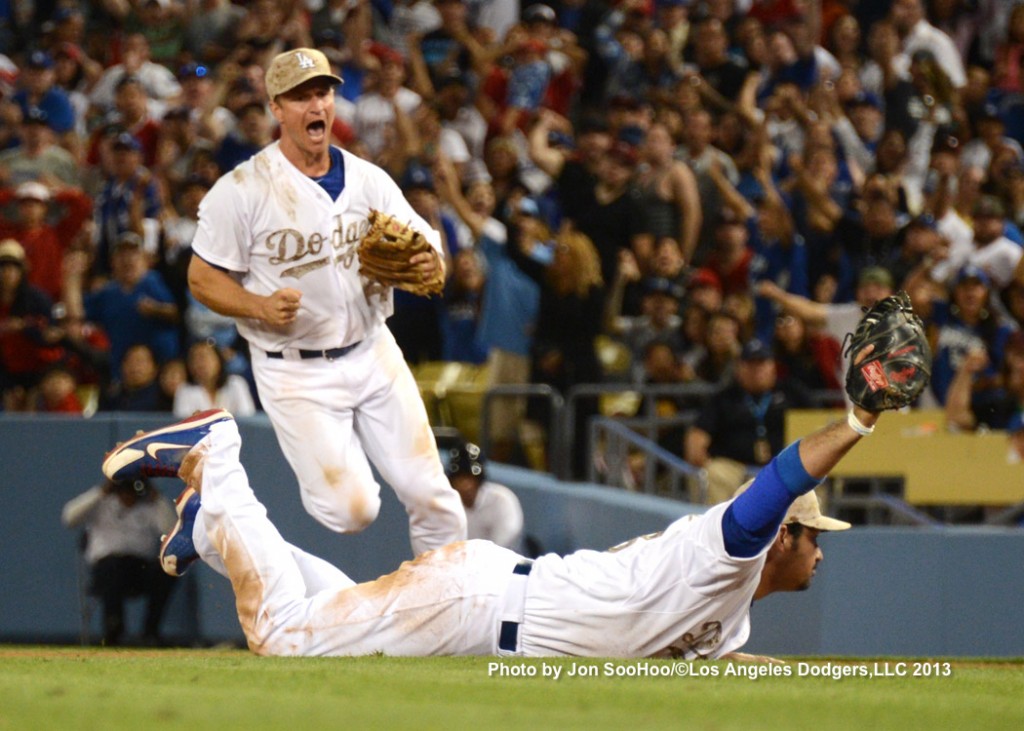 1) A.J. Ellis worked his way from fringe prospect to one of the top catchers in the National League, and hasn't let up at all.
2) Adrian Gonzalez, rather than mailing it in, has gone all-out to carry the Dodgers, even with neck issues.
3) Carl Crawford, probably not 100 percent but essentially the same story as Gonzalez.
4) Nick Punto, scrappy like a cliche, but the cliche fits. The Boston guys are not the problem.
5) Mark Ellis takes a licking and keeps on ticking.
6) Matt Kemp is clearly trying. His struggle is lost mechanics and lost strength, due to his labrum injury. It is not an issue of effort.
7) Luis Cruz can be accused of a lot of things, but not going through the motions. He is a grinder.
8 ) Scott Van Slyke, cast off by the Dodgers only months ago, took it upon himself to take it to another level and resurrect his career.
9) Hanley Ramirez's biggest sin this year — wanting to play as much baseball as he can, regardless of what his body says.
10) Justin Sellers will literally run through a wall for you.
11) Zack Greinke will literally put a rod through his shoulders for you.
12) Kenley Jansen will literally put his heart on the line for you.
13) The Dodgers would have been happy to pay Ted Lilly to camp out on the disabled list, and Lilly repeatedly refused.
14) Chad Billingsley wanted to pitch through a tendon injury rather than take the year off.
15) Chris Capuano, no prima donna, will take any role you give him and take no offense.
16) Jerry Hairston never met a position he won't play.
17) Andre Ethier is a pit bull. Don't know what's going on between him and Don Mattingly, but he is not taking things lying down. He may be still figuring out how to channel his will to succeed.
18) Matt Magill, Stephen Fife, Shawn Tolleson, Tim Federowicz, etc., etc. – all they want to do is contribute.
19) Hyun-Jin Ryu embraces the challenges of new kid on the continent.
20) Clayton Edward Kershaw.
I could have come up with more examples if I allowed myself more time. But I kept a strict timer on drafting this. Five minutes to write it, five minutes to edit.
There might well be a talent deficit on the Dodgers, especially with injuries and players like Kemp and Ethier struggling to find themselves. But the narrative of the Dodgers failing because they're a team of all-ego individualists is a false narrative.
Update: Holy cow, I forgot Uribear, reinventing his career.
* * *
Joe Blanton starts for the Angels tonight against the Dodgers. Last time he pitched in Dodger Stadium, on September 29, Blanton threw six shutout innings and Kemp hit two home runs. So you know what to expect.
Carl Crawford, LF
Mark Ellis, 2B
Adrian Gonzalez, 1B
Andre Ethier, RF
Matt Kemp, CF
A.J. Ellis, C
Juan Uribe, 3B
Luis Cruz, SS
Hyun-Jin Ryu, P