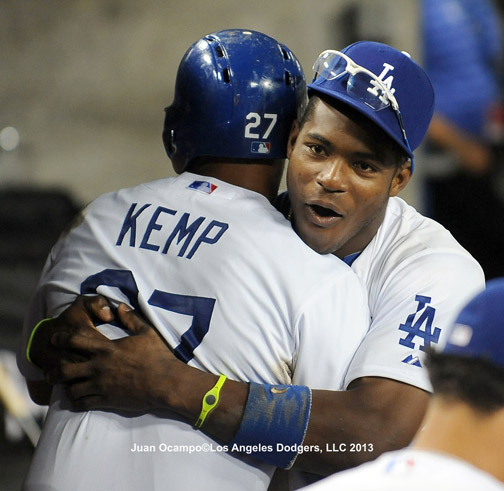 Will it be a short stumble or a big tumble?
Will it be the bullpen, the fielding, the injuries, the sluggers' return to earth – or all of the above?
It takes nothing away from the Dodgers' hot streak to say that it won't last. The end could come tonight, or the next day, or next week. But they'll return to earth.
It's the nature of the fall that I wonder about, whether it will feel temporary or permanent, shallow or deep.
In 1982, the Dodgers advanced 12 1/2 games in the standings in 13 days, moving from 10 games out to 2 1/2 games up in the National League West, then fell back out of first place, then regained first place, then fell back out again, before Joe Morgan finished their season.
In 2006, Los Angeles went from fifth place to first in 10 days, during an astonishing 17-out-of-18 streak (immediately after losing 13 out of 14), played leapfrog with the Padres day by day and, in the 4+1 game, inning by inning, and finished on top in the division.
In 2008, the Dodgers were five games under .500 on August 29, won eight straight and 12 out of 13, and didn't look back until the National League Championship Series.
The 2013 season has already put Dodger fans through the ringer. But in a way, it has only just begun.
The reconstruction of the bullpen looks helpful, but there's an inherent chaos that makes it impossible to trust. The fielding isn't really any more reliable. You know the injuries will find themselves again. You know Yasiel Puig and Hanley Ramirez will have their slumps. So, for that matter, will Stephen Fife.
The good and the bad of the Dodgers are in an ongoing battle for supremacy. The difference right now, compared to two weeks ago, is that it finally looks like the good can put up a fight.