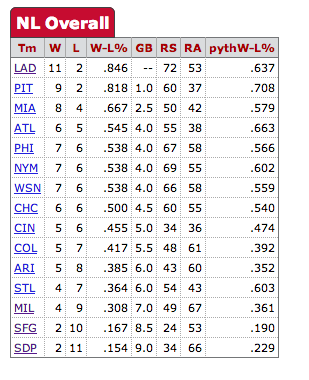 As you can see at left, the Dodgers have momentum since June 21, particularly against the Giants, but they'll be tested tonight.
They face Madison "Don't Call Me James" Bumgarner, who has a 3.08 ERA this year and a 2.54 career ERA when facing Los Angeles. In two starts this year against the Dodgers, Bumgarner has pitched 15 innings and allowed two runs on seven hits and a walk, while striking out 11.
For his part, Bumgarner might well be looking forward to his rematch with Yasiel Puig who homered and singled in a 3-1 Dodger victory June 24.
Since June 21, the Dodgers and Giants have each allowed 53 runs. But Los Angeles has scored 72, while San Francisco has tallied 24.
In the Dodgers' two losses, they have allowed a total of 25 runs. In their 11 wins, they have allowed 28 runs.
* * *
Here's an update on the Dodgers' apparently nearly completed pursuit of Marlins pitcher Ricky Nolasco, from MLB Trade Rumors.
* * *
Clayton Kershaw is an National League All-Star. Yasiel Puig was not named to the NL reserves, but we'll see if he (or teammate Adrian Gonzalez) can make it in via the final fan vote. Personally, I'm perfectly happy to have Puig chill for the All-Star break.