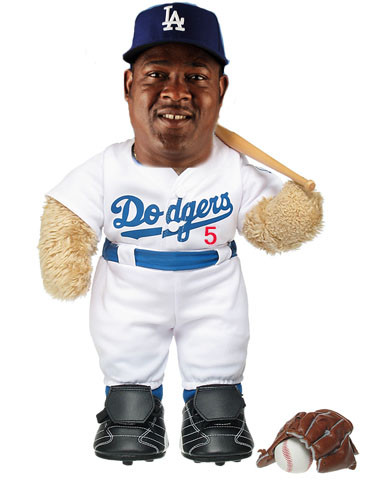 There have been Dodgers who have had their downs and ups, but I can't remember such a purely bottom-to-top tale of redemption as the one of Juan Uribe.
Uribe's season-long renaissance, in the third year of his three-year contract with the Dodgers, reached full flower tonight, with a double, triple, home run and seven RBI in the Dodgers' 10-2 rout of San Francisco.
It was an astonishing performance but bearly out of the blue the way it would have been in 2011 or 2012, when Uribe hit a combined .199 with a .262 on-base percentage and .289 slugging percentage. Despite being on the roster all season last year, Uribe had one plate appearance after August 27.
But practically from day one in 2013, Uribe has brought plate discipline to his game, already surpassing his 2011 and 2012 totals in walks, and when he has swung, he has made an impact – to the point where Dodger fans have slowly learned not only not to fear his at-bats, but to embrace them. Last summer, Dodger fans were begging for his release; his 2013 OPS is now exactly .800. Combine that with the fielding that was always solid – in his latest exploit, he turned a bullet by Matt Cain tonight into an inning-ending 5-4-3 double play – and the Dodgers have had, believe it or not, a productive third baseman.
Tonight, with the Dodgers trailing 1-0 in the second inning, Uribe worked the count to 2-1 in his favor, then delivered a two-run double to left field. Then, with the bases loaded and one out in the third, Uribe worked the count full before sending a hard, sinking liner into left field that Carlos Gonzalez of Colorado might have caught, but he was yesterday's opponent. Cole Gillespie dove for the ball and missed, and Uribe had his first triple since July 28, 2010.
Uribe's two-run homer in the seventh not only helped him match his career high in RBI in a game, it put him a single away from hitting for the cycle. Alas, Uribe went down in the ninth on a check-swing strike three.
But back to the original point. What Dodger endured two miserable years, while collecting a big paycheck, before putting it together in his third season? Looking at this list of Dodgers in the post-1975 free-agent era, no one with the profile of Uribe leaps to mind. It's not like Dave Goltz, Don Stanhouse, Mike Davis or Eric Davis turned it on in Los Angeles after stinking for two years. But Uribe has.
It's remarkable.
This week, in five different games, Dodgers have been within single hits of hitting for the cycle. Yasiel Puig needed a home run one game and a triple the next, Hanley Ramirez needed a triple Wednesday, Adrian Gonzalez needed a triple Thursday, and now Uribe's missing single.
The Uribextravaganza and the final score would indicate a night of complete celebration for the Dodgers, but that's not the case. Two innings into the first game in which the Dodgers had Carl Crawford, Andre Ethier, Yasiel Puig and Matt Kemp on their active roster, Kemp irritated the AC joint in his left shoulder with a swing. He is day to day.