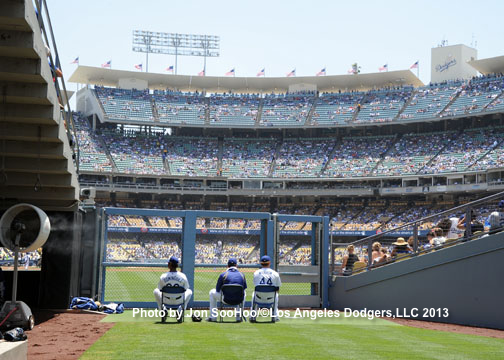 It might have been four days off for the Dodgers, but it wasn't for me, otherwise you might have seen a post here since last weekend. I have watched the first nine episodes of Orange Is the New Black, though. And spent a lot of time with the Primetime Emmy nominations.
Tons could have been written about the Dodgers during this time, but it all boils down to this: Team health is clearly paramount to the Dodgers' fate, yet mostly — despite what we'd like to believe — out of the team's control.
This team could be awesome. Or it could revisit the depths that marked most of the season. As much as any year, we just need to see them play the games.
Good thing we have Vin Scully around for most of the ride (though not this weekend).
Dodgers at Nationals, 4:05 p.m.
Carl Crawford, LF
Yasiel Puig, RF
Adrian Gonzalez, 1B
Hanley Ramirez, SS
Andre Ethier, CF
A.J. Ellis, C
Juan Uribe, 3B
Mark Ellis, 2B
Ricky Nolasco, P