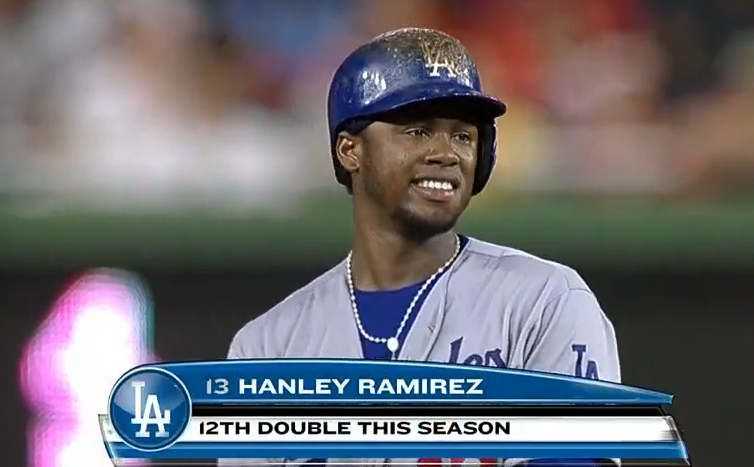 The story through nine innings:
Runners to first base: Nationals 14, Dodgers 11
Runners to second base: Nationals 8, Dodgers 7
Runners to third base: Nationals 5, Dodgers 3
Runners home: Nationals 1, Dodgers 1
Needless to say, it was a night of just trying to survive.
Then, after 239 minutes and 23 runners stranded between them, Washington and Los Angeles moved into extra innings. And Hanley Ramirez was heroic again, following Adrian Gonzalez's 10th-inning double with his third hit of the night, a booming two-bagger of his own, providing the winning run in the Dodgers' 3-1 victory, their 19th in 24 games.
Andre Ethier's sacrifice fly added an insurance run, and then Kenley Jansen for the second night in a row struck out two in a perfect inning for the save.
Jansen followed Chris Withrow, who had pitched a perfect ninth with a With-wow strikeout of Bryce Harper to end the inning. Withrow came away with his first major-league win.
Earlier, in the eighth inning, Harper was struck out by Paco Rodriguez, who entered the game with two on and one out. Rodriguez was then pulled in favor of Ronald Belisario, who retired Jayson Werth on a grounder. Werth stranded seven runners on an 0-for-5 night.
Yasiel Puig went 0 for 5. His timing is off: He wasn't swinging desperately at pitches that were out of reach, but rather missing hittable pitches that he was lashing only a couple of weeks ago. As nervewracking as that might be – we're past the point, for example, that Matt Kemp was sent to the minors following his hot start as a rookie in 2006 – Puig deserves some time to see if he can counter-adjust. And he can still contribute on defense even when he is slumping.
Zack Greinke was bobbing and weaving in his six innings, but he allowed only one run and also went 2 for 2, raising his season on-base percentage to .486, currently the highest mark in major-league history for a pitcher with at least 39 plate appearances. Greinke had a 21-inning scoreless streak snapped.
Tim Federowicz was 1 for 5 and has a season OPS of .561, but we saw why the Dodgers finally decided to rely on him as the backup catcher instead of Ramon Hernandez. Federowicz made multiple big stops of tough pitches to help keep the Dodgers in the game.
The Dodgers also stayed alive with some big plays in the infield, close plays that the umpires could have called either way.
Los Angeles is one game behind Arizona in the National League West, with the Diamondbacks trailing San Francisco in the seventh inning and Clayton Kershaw on the mound for the Dodgers Sunday. Matt Kemp could be activated from the disabled list for the game, though the Dodgers could also wait until Monday, when they go to Toronto and can use a designated hitter for three games.